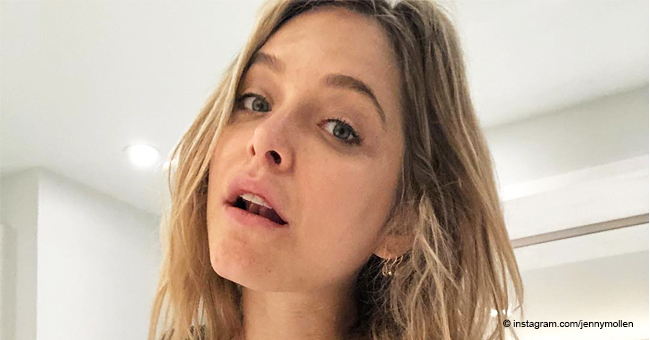 Jenny Mollen Admits She Dropped Her Son on His Head Causing Him to 'Fracture His Skull'

Jenny Mollen of the famous "Angel" TV series shocked her fans after revealing news of her son's near-fatal accident.
The young mother of two took to Instagram yesterday, April 18, to share a close-up shot of herself with her little boy in her arms. She captioned the picture with a lengthy message that would turn out to tell of a deadly mistake that could have left her son damaged for life.
The incident happened late on Saturday when Mollen mistakenly dropped her five-year-old son, Sid right on his head. The accident caused him to fracture his skull, and the family immediately rushed him to the hospital where the doctors kept him in the ICU for close monitoring.
Mollen admitted that it had been a tough week for her and her family as they prayed hard for Sid's quick recovery. She went to great lengths to express gratitude for the medical team, @ nyphospital for their "immediate response and aid."
Then came that tender moment when she directs the message to her husband of many years, Jason Biggs. She was only full of appreciation for his support all through the trying ordeal.
"Not sure how this post turned into an Oscars acceptance speech... But @biggsjason Thank god for you! Thank god, thank god, thank god."
Jason Briggs, who is also an actor and mainly known for his role in "American Pie," married the youthful beauty over a decade ago in 2008. They have enjoyed a stable relationship devoid of the nasty drama that seems to plague most celebrity marriages.
The strength of their relationship was tested by this accident, which Mollen admitted was her fault, but it is indeed heartwarming to find that they remained strong together all through it.
The mother of two ended her lengthy Instagram message with news of Sid's recovery as well as, encouragement for parents who have or will experience such an incident.
She said:
"It has been a traumatic week, but Sid is home now taking things slowly and recovering nicely. He is also eating a lot of chocolate dipped ice cream cones and plans to try cherry dipped soon. My heart goes out to all parents who have or will ever find themselves in this kind of position. You are not alone…"
Her ordeal has elicited numerous messages of support from her thousands of fans since she posted the photo. Many celebrities, who are parents themselves, took to the comments section to encourage the family and show their support. The long list includes Angela Kinsey, Bitsie Tulloch, Erika Christensen, and many others.
Please fill in your e-mail so we can share with you our top stories!