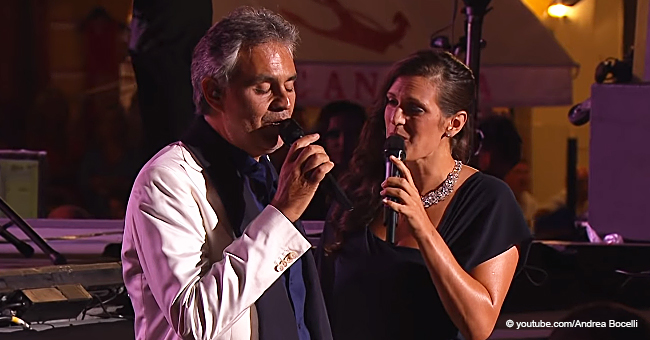 Did You Know Andrea Bocelli's Wife Can Also Sing? Their Family Duet Is Just Cuteness Overload
The world famous Italian tenor, Andrea Bocelli sang a duet years ago to the woman that would become his wife and surprised fans when they sang it together so beautifully.
Andrea Bocelli needs no introductions, for the last few decades he moved people with his angelic voice whether you understood a word he sang about or not.
Because we have learned so much about Andrea over the years, it came as a surprise that his wife, Veronica Berti has a beautiful voice as well.
The couple started dating in 2002 and soon became inseparable. Even though the couple only tied the knot in 2014, one would think people would be aware of her singing ability.
But it wasn't until Andrea put his 2013 "Love In Portofino" album together, that her stunning voice took everyone by surprise.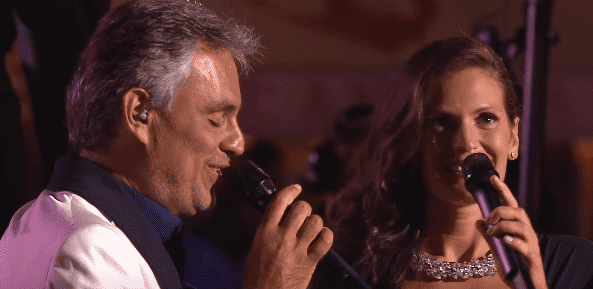 Andrea Bocelli and Veronica Berti perform Qualche Stupido. | Source/YouTube/Andrea Bocelli
The album producers wanted someone to demo the duet "Qualche Stupido" (Something Stupid) with Andrea, which he wanted to add to the album.
His manager and "beautiful love" Veronica volunteered and stunned the producers with her knock-out-voice. The producers loved Veronica's voice so much that they "begged her" to do the duet with Andrea when they planned a special concert for the album.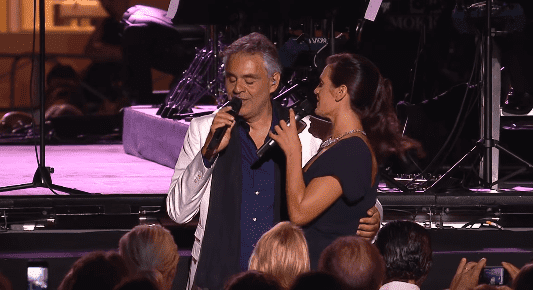 Andrea Bocelli and Veronica Berti perform Qualche Stupido. | Source/YouTube/Andrea Bocelli
Their chemistry was undeniable as they sang to an intimate audience with voices that compliment each other perfectly.
As the presenter rightfully asked shortly before the couple started their duet, "Does it get any more romantic than two people in love singing to one another?"
Another family member that Andrea had a memorable duet with, is his son Matteo. From Andrea's first marriage to Enrica Cezzatti, his handsome son definitely inherited singing talent from his father.
The legendary tenor's career dates back to 1982, so Matteo grew up in a house filled with music from a man who's voice record producer, David Foster labeled as "the most beautiful in the world."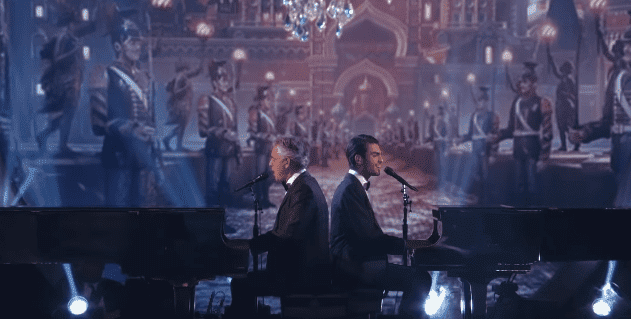 Andrea and Matteo Bocelli perform on stage at Dancing with the Stars. | Source: YouTube/Dancing With The Stars
Twenty-one year old Matteo followed in his father's footsteps and chose a career in music, and based on their moving duet together, he made the right choice. The two performed the song "Fall on Me" together on an episode of the American television show "Dancing with the Stars" in October last year.
Also the first single on Andrea's new album, it featured as tracks on two Disney movies including "The Nutcracker" and "The Four Realms" that came out late last year.
The duet showcased their individual sounds perfectly while they blended so beautifully in the chorus. As the song is about the relationship between a parent and child, the touching rendition had the audience dab their eyes.
While there is little known about the notoriously private Bocelli family, Matteo recently shared some history when he wished his mother a happy birthday.
Please fill in your e-mail so we can share with you our top stories!