K. Michelle Says Her Surrogate Is Pregnant with Twins
K. Michelle is gearing up to expand her family tree in the next few months, and she recently announced her surrogate is expecting twins.  
The singer and reality star has always been open about her desire to conceive twin girls with her fiancé, Kasten Sims; but after a lupus health scare, she struggled with fertility issues.
Although she was set to go through an IVF process in 2018, it seems like things didn't work out, and she decided to use the surrogacy option.
Last December, K. Michelle announced on Instagram that her surrogate had been approved and that the woman was a "perfect match" for the babies. "She honestly is a blessing, my guardian angel," the singer said.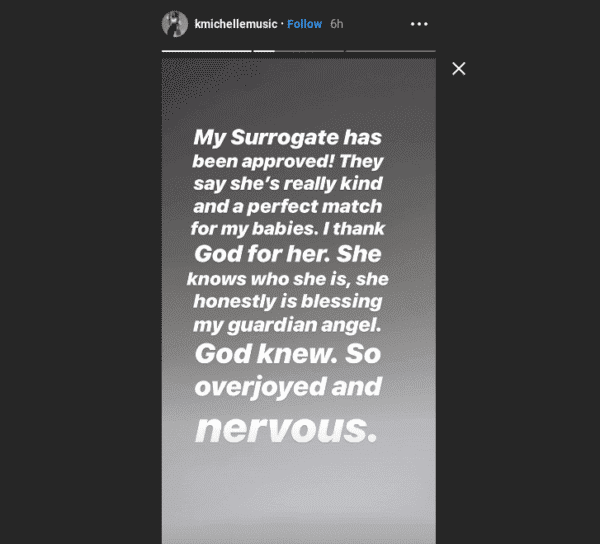 A few days ago, both K. Michelle and her surrogate, a YouTuber named Tannae from the popular channel "UsPlusFour," came forward to announce they're expecting twins.
"This year I have two little babies on the way, well 3 with the new restaurant. Sheesh well 4, newbies with this album. I'm living life for once with no drama just prayer, focus, and hard work," Michelle wrote on an Instagram post.
Tannae, a mother of triplet girls and a boy, made the special announcement in a YouTube video.
"So basically, I'm going to be a surrogate for a celebrity," she told her followers. "I really don't wish to say her name even though she has said it on Live."
According to Tannae, she met K. Michelle in 2017 while shopping in IKEA with a friend. Back then, her triplets were 2-months-old, and K. Michelle couldn't stop gushing about the babies.
In the end, they exchanged numbers and kept in touch, as Michelle thought Tannae would be her perfect surrogate.
"I want to bless K with something that she always wanted," the vlogger shared.
"When I was at my lowest with my children, she was there. This is something that I choose to do. It's not all about money, me and her done caught a bond like a connection, we're family."
Tannae is set to appear alongside K. Michelle on the new season of "Love & Hip Hop: Hollywood," according to the Jasmine brand
Michelle is also mom to a 16-year-old boy, Chase Bowman, whom she has kept out of the spotlight.
"I've never put my son on Love and Hip Hop. I never posted him on my Instagram page, and I've protected him from the Internet, the heckling and all that kind of stuff," she told Essence in 2016, adding:
"And when the babies are born, they probably won't be seen much either. I'm not really with all that. People seem to believe that just because you don't post it, it's not happening, but it's just my choice and my privacy."
Congratulations to K. Michelle!