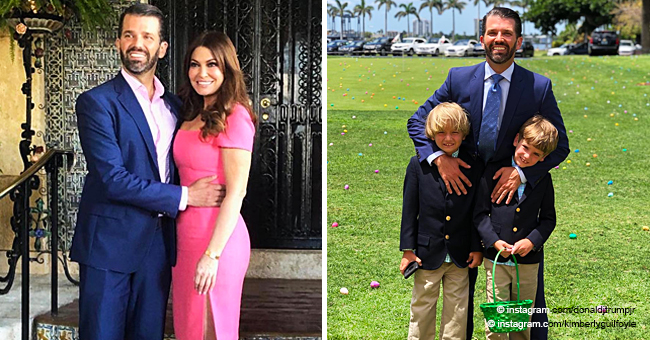 Donald Trump Jr Spends Easter with His Girlfriend in Mar-a-Lago Amid Mueller Report Revelations
While many may have scrutinized the Meuller report on Russia with a fine tooth comb since it's redacted release on Thursday, Donald Trump Jr, along with Kimberly Guilfoyle joined the rest of the family at Mar-a-Lago for Easter.
The former Fox News host, Kimberly Guilfoyle, and her 12-year-old son, Ronan joined the Trump family for Easter alongside Donald Jr. The two have reportedly been dating for a year, and all the children seemed to have a great time preparing Easter treats.
The father of five felt rather proud of himself when he managed to get all the children dressed and ready for photos as he shared a post with a gallery of pictures of all the children.
As caption Donald Jr added, "It's not often that I get the monsters dressed up nicely and looking at the camera. These came out pretty well. Happy Easter all."
Easter festivities kicked off with the making of bunny-shaped cakes while most of the decorations made it into their tummies before it could reach the cake.
To mark the event, Donald Jr posted a slideshow of snaps which he captioned, "Making Easter Bunny cakes. An annual tradition here at Mar-a-Lago. The kids usually eat 90% of the candy before it ever gets in the cake, but if they're having fun, I'm good with it."
Donald Jr and his ex-wife, Vanessa's divorce, got finalized a few weeks ago, and their children, Kai, 11, Donald Trump III, 10, Tristan, 7, Spencer, 6, Chloe, 4, along with Kimberly's son Ronan had a fun time together as Kimberly posted a video that evening of them all enjoying the pool.
Kimberly and Donald Jr. began seeing each other not long after his ex-wife, Vanessa, filed for divorce in March 2018.
While the Meuller report found no evidence that President Trump or anyone on his team colluded with Russia to get elected, it did point out efforts from Russia to conspire with Donald Trump.
The redacted version of the report also included that the president did, however, attempt to derail the probe repeatedly. The report doesn't clear or accuse Trump of obstruction, but according to William Barr, the attorney general, Trump did not obstruct justice.
However, before Easter eggs and Meuller reports came to pass, Kimberly turned 50 years old. On March 8, Kimberly celebrated her birthday with a dinner at Vaucluse on the Upper East Side of New York with an intimate group of friends which included Eric and Lara Trump.
The former Fox News host shared the "lovely evening" with fans as she posted a picture featuring herself with Donald Jr, his brother Eric and his wife, Lara.
That weekend Kimberly continued celebrations at Mar-a-Lago when she joined the Trump family at the private resort.
As a touching surprise, Kimberly got serenaded by an early member of the Pussycat Dolls, Kaya Jones and Donald Jr shared his appreciation on social media with a short video clip and a caption that read, "Really fun night. Thanks again."
In June last year, Donald Jr's ex-wife spoke out when rumors about Donald Jr and Kimberly got to the point of detriment. A columnist from the New York Daily News suggested Kimberly be fired from the TV network and Vanessa decided to clear the air.
Please fill in your e-mail so we can share with you our top stories!