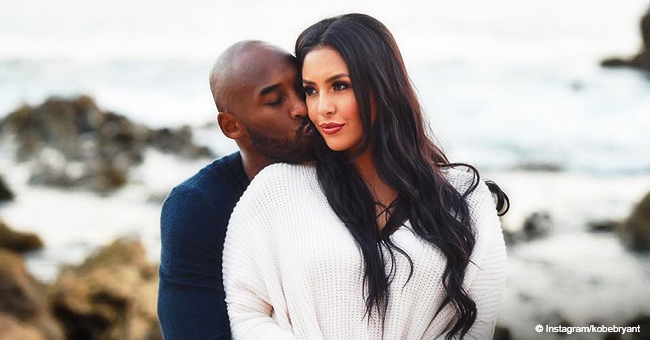 Kobe Bryant and Wife Vanessa Celebrate Their 18th Wedding Anniversary
Kobe Bryant and his wife Vanessa are celebrating their 18th wedding anniversary, and the Mamba took to Instagram to share the occasion with fans. The couple has gone through a lot of ups and downs, but remain stronger than ever.
The former NBA superstar turned producer and book author lightened up his fans' Instagram feed by posting a romantic shot alongside his lovely wife.
In the shot, taken at the beach, Kobe is hugging Vanessa from behind and kissing her cheek with his eyes closed. She, on the other hand, looks ethereal wearing a white sweater and looking somewhere off camera.
"Happy 18th Wedding Anniversary baby! Ti Amo per Sempre," Bryant captioned the post.
Fans were quick to fill the comment section gushing about the couple and sending their best wishes for them.
"Your most valuable ring," one user wrote. And another added, "It's been 18 years!!! OMG! Happy for both of you, even though I don't really know you personally. Still happy for you. #Congrats."
On top of celebrating their anniversary, the couple is gearing up to welcome a fourth baby into their family.
They're already parents to three beautiful girls: Natalia, 16, Gianna, 12 and Bianka, 2, and early this year, Kobe announced through an Instagram post that they're expecting a baby girl in the next few months.
However, the former L.A Lakers superstar recently revealed in an interview with Extra that his wife is not done having kids yet because she wants to try for a boy.
The five-time-champion is very supportive of his wife's decision, and he's willing to give it another shot although he admitted that he "loves having girls" and that Vanessa wants a boy more than he does. "We'll see if I can deliver," he added later on.
If their plan pans out, they'll be blessed with five beautiful children, and to that effect, Kobe joked that they are going to have their basketball team.
Although the former model and the basketball superstar are close to celebrating two decades together, the journey has been filed with complications for the smitten couple.
Back in 2003, Kobe was accused of sexual assault only six months after Vanessa gave birth to their first child. Kobe declared himself not guilty but admitted he had consensual sex with the accuser, revealing his infidelity to the world.
Vanessa stuck by Kobe's side until the charges were dropped and the two sides made an arrangement out of court.
Later, in 2011, she filed for divorce citing irreconcilable differences. But several sources claimed the couple was trying to fix their marriage.
In 2013, Vanessa revealed the divorce was off, and ever since, she has been by Kobe's side as he climbs the ladder of his long-lasting career in the sports and entertainment industry.
Please fill in your e-mail so we can share with you our top stories!