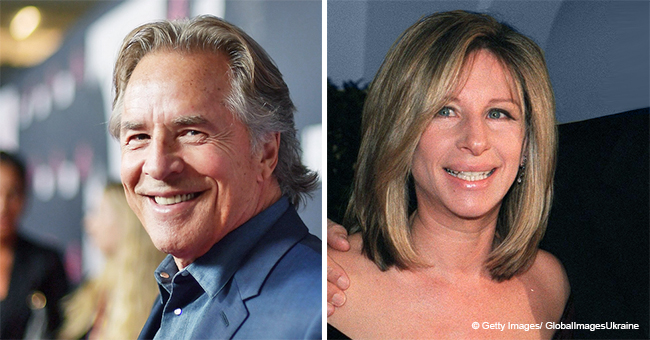 30 Years Ago, Don Johnson Recorded a Charming Song with His Then-Girlfriend Barbra Streisand

Thoughts of Don Johnson may wander to his days in Nash Bridges or Miami Vice on television. However, many might be surprised that he can sing too, as an old recording of him and then-girlfriend Barbra Streisand resurfaced.
Barbra and Don recorded a song, "Till I Loved You" in 1988, very much in love and just a few months after they made their official debut as a couple.
Over Christmas in 1987, the two got introduced at a party in Aspen and made their first appearance as a couple at a boxing match between Mike Tyson and Larry Holmes on January 22, 1988.
They became the talk of the town, as Barbra had already made a name for herself in the music industry while Don played in the popular television series, "Miami Vice."
The chemistry between them was almost tangible as PEOPLE noted that it "could have put the ski season in serious jeopardy."
The couple's duet featured as the title track on Barbara's album and got released in October 1988. However, they did not celebrate the success of their collaboration together. By the time it became a massive Top 40 hit that also featured on the Billboard Hot 100, they had already gone their separate ways.
But Don seemed like he could do it all. In 1986, he released his debut single, "Heartbeat" which ended in the top five on the Billboard Charts and soon became a worldwide hit, a rare occurrence for an actor.
Altogether, Don released two pop albums and featured on the Billboard Hot 100 on three separate occasions during the late 1980s.
Singing and acting aside, Don also became the World Powerboat Champion in 1988 and became the first actor to break into the sporting world with such an impressive accomplishment.
Almost a decade later in 1996, Don received his star on the Hollywood Walk of Fame in commemoration of his acting talent.
On a personal level, some would call him a true romantic, as he had four wives while he walked down the aisle five times. Don married Melanie Griffiths for the first time when she was 18 years old.
The couple moved in together when Melanie was only 15 years old after they met through her mother, Tippi Hedren who co-starred with Don on the movie, "Harrad Experiment."
On Melanie's 18th birthday they became engaged and got married in January 1976; however, they filed for divorce six months later. At the beginning of 1989, the couple reunited and conceived their daughter, Dakota Johnson while their second marriage lasted until 1996.
After their marriage ended, the notorious ladies man though he had everything he wanted. He had fame, fortune, parties, friends, and a whole list of things he realized did nothing to his feeling of deep unhappiness.
Don suddenly found himself on a path of New Age study and Buddhism which ultimately led him to another chance at love.
Please fill in your e-mail so we can share with you our top stories!