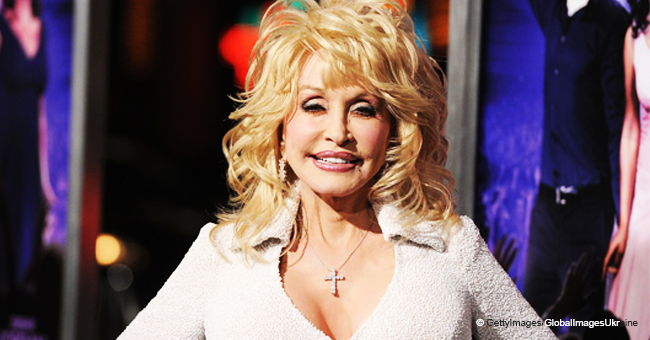 Dolly Parton Shares a Rare Throwback Photo Wishing Fans a 'Happy Easter'
Popular singer and songwriter, Dolly Rebecca Parton, shared a rare but beautiful throw-back photo of herself on her Instagram page as she joins in on the celebration of the festive season.
Dolly Parton, the musician that is well known for her hit track, "Jolene," recently shared an adorable photo that was taken a while ago, on her Instagram page, as she joined in the ongoing Easter celebration. Dolly is infected with what some people might call the "festive fever," and her media post reflects it!
In the historic photo, Dolly can be seen in a pretty floral dress with a matching flowery background that managed to stand out and blend in at the same time. The famous music star captioned her lovely post with a short informal message which reads:
As expected, Dolly's fans reciprocated the love that was shared through the post by writing sweet messages in the comment section and liking the photo.
"Happy Easter to you from my family to yours."
Other celebrities and notable people that joined in on the festive online fun besides Dolly include; Miley Cyrus, "American Idol's" Katy Perry, 50 Cent, Madonna and so on.
Besides sharing her festive greetings and spreading joy in the process, the musical veteran is reportedly responsible for the smiles on the face of millions of children in various locations.
According to a source, the program, which distributed its 100 millionth book, last year, ensures that kids from age 0 to 5 each receive a personal copy with cute inscriptions of the kids' name on it.
The country-music icon's life might seem perfect, but she has also been faced with difficult issues and many tough decisions. It's barely over 50 years ago since Dolly and her former partner, Porter Wagoner, experienced one of the greatest years in country music.
Unfortunately for the duo, their partnership didn't last as long as it could have and they eventually parted ways. Their separation led to an infamous lawsuit and countersuit which further severed their already destroyed bond.
As time passed, Dolly and Porter were able to retrace their steps, and they both decided to give their friendship another try. This time it lasted till Porter passed away in 2007.
The 73-year-old has many harrowing experiences, from being bullied in school, to losing close friends, but she has always been a fighter, and she has a special place in the hearts of her fans and the musical hall of fame.
Please fill in your e-mail so we can share with you our top stories!