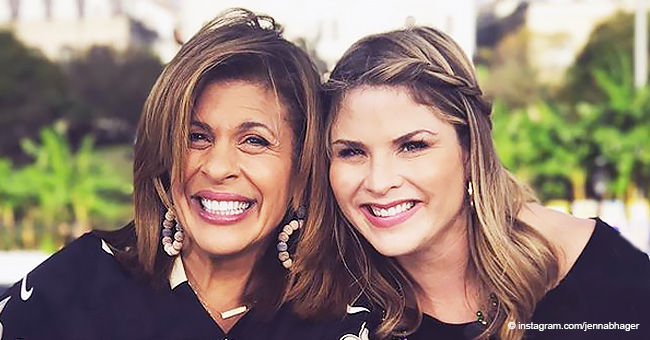 Jenna Bush Hager Kept Her Pregnancy a Secret for Almost 6 Months Because of Hoda Kotb
On Monday's episode of the "Today show with Hoda & Jenna" the new co-host revealed that she was expecting a baby. She had kept the secret for almost six months.
Part of her reason for not sharing the news for so long was because she felt "guilty" about telling Hoda Kotb.
Jenna Bush Hager, 37, finally revealed that she was pregnant. However, she also shared why she'd kept it a secret for so long stating: "When I had that conversation with Hoda, because I knew she wanted this baby, I called my mom."
She explained that her twin sister Barbara Pierce Bush was also trying to get pregnant with husband Craig Coyne. Bush Hager continued: "I said, 'Barbara' — who just got married — and Hoda, they want these babies, and I have this guilt."
Her mother, Laura Bush reassured her saying: "'Everybody gets their babies when they're supposed to.'" The new co-host added, "My mom and her mom before her struggled with infertility forever, and so I thought that was a beautiful thing to say."
She confessed: "I don't take this lightly. I know how blessed and lucky I am. It's an amazing gift. So Hoda, thank you for your love and happiness and support — and give that baby a kiss." On the show, Bush Hager also revealed that she'd told Hoda Kotb, 54, before telling the public on Monday.
She also revealed the baby's gender by opening a box filled with blue and white balloons. Her guest co-host, Meredith Vieira, was quite surprised by the news as she'd never suspected that Bush Hager was pregnant.
On the same episode, Kotb called in to congratulate her co-host. Kotb also recently welcomed her second child, daughter Hope Catherine Kotb, and she's now a mother of two including two-year-old Haley Joy Kotb.
On the call, Bush Hager asked her co-host: "Hoda, can you believe it?" Kotb gleefully responded: "Oh my God, I'm so happy!"
She confessed that she had been "eavesdropping" from home on her headset earlier in the show. Bush Hager shared: "Well, we miss you. And you know what that newborn baby fog is like. So I can't wait, even though I'm a little scared."
Kotb encouraged her co-host saying:
"Jenna, first of all, you're amazing. And when you told me that you were pregnant, I still remember because … we were wondering about adoption issues, but listening to you, I was praying."
"And you said, 'Oh Hoda, I feel so bad.' I said, 'Please don't!' I was literally kind of holding onto a little secret and look at us, now it's all out in the open."
The "Today" show host wasn't done praising her co-host as she added:
"I feel like this is your year for a million reasons. You are on the show you were born to be on, you're expanding your family, which is exactly what is supposed to be happening. This is the year of Jenna Bush Hager."
Bush Hager replied: "That is so sweet, Hoda," and added that it was also "the year of Hope Catherine." She and her husband of 10 years, Henry Hager, 40, are also parents to daughters Poppy Louise, 3½, and Margaret "Mila" Laura, 6.
On Easter Sunday, the two siblings found out that they were going to be big sisters. Before revealing the news on the fourth hour of the "Today," Bush Hager had initially opened up to her co-hosts Craig Melvin, Savannah Guthrie, and Dylan Dreyer during a live "Today" show segment.
At the time, the colleagues were chatting about their respective Easter holidays.
Guthrie said: "Mila and Poppy got a little something extra in their Easter baskets this year." Bush Hager responded: "They got something extra. It's pretty sweet, I don't know if it's sugary..."
Melvin quickly caught on and exclaimed: "Wait a minute, what are we doing here? Another?" Then, Bush Hager finally shared the exciting news.
Please fill in your e-mail so we can share with you our top stories!