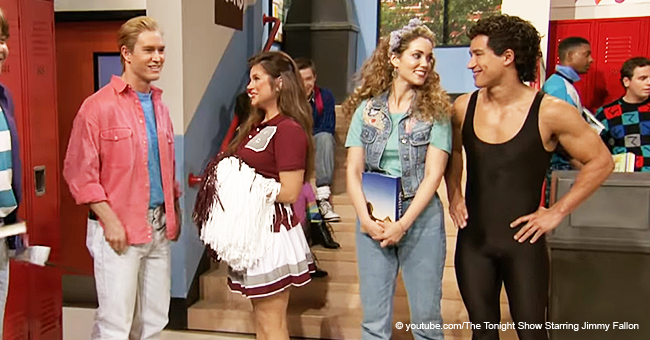 'Saved By the Bell' Cast Remain Friends 30 Years since the Show's Beginning
The cast of the iconic teen show, "Saved by the Bell" came together for a reunion over the weekend, and they showed the world just how close they have remained even after the years went by.
What does 30 years of friendship look like? To answer that question, you will have to refer to the Instagram picture showing that the cast of "Saved by the Bell" are still together thirty years after the show kicked off.
A cast member of the show, Mark-Paul Gosselaar posted a picture of the cast during the union and tagged it with the caption:
"This is what 30+ years of friendship looks like."
The picture showed four members of the cast, Mark-Paul, Tiffani Thiessen, Mario Lopez, and Elizabeth Berkeley, all joined by their spouses.
Other cast members joined Gosselaar in posting the pictures on their Instagram pages. Tiffani in posting hers captioned it with the words: "Friends Forever."
Mario Lopez on his part posted a video of him introducing each member of the cast present along with their spouses. He also said that they had a crazy amount of food and duly tagged his post: "Credit Card roulette coming up!" referring to the game where a waitress will choose from either of the friends' credit cards to foot the bill.
The friends seemed to be having lots of fun, but they were not complete. Missing in action were Dustin Diamond and Lark Voorhies.
This is not the first time the four friends present would be having a get-together. They also had a surprise reunion in 2015 when they made an appearance on the "Tonight Show with Jimmy Fallon." That time, they were joined by Dennis Haskins, known in the show as Principal Belding.
The show "Saved by the Bell" premiered on August 20, 1989, airing on NBC from that year up until 1993. The show was about a group of high school friends and their principal; it addressed social issues like drug use, driving under the influence, homelessness, women rights, etc.
The high school friends were Zack Morris, played by Mark-Paul Gosselaar; Kelly Kapowski, the cheerleader, played by Tiffani Thiessen; A.C Slater, played by Mario Lopez; Jessie Spano, played by Elizabeth Berkely; Samuel "Screech" Powers, played by Dustin Diamonds, and Lisa Marie Turtle, played by Lark Voorhies.
The show will be marking its 30th anniversary later in the year.
Please fill in your e-mail so we can share with you our top stories!