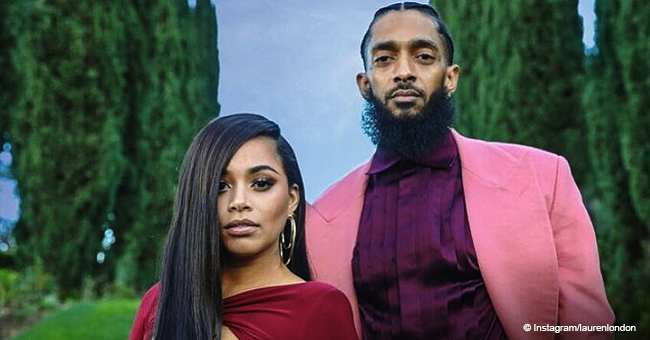 Lauren London Is 'Missing' Late Nipsey Hussle in New Photo
Lauren London remembered her lost love with a touching throwback photo that showed how much she has been missing Nipsey Hussle.
Lauren London is still struggling to come to terms with the death of her beloved fiancé, Nipsey Hussle.
London, who was with Hussle in a committed relationship for six years, shares a son with the recently deceased rapper.
HEARTBREAKING POST BY LAUREN LONDON
London posted a photo from 61st Annual Grammy Awards ceremony held on February 10, 2019, at Staples Center in Los Angeles, captioned "Missing you."
The rapper was nominated for a Grammy for Best Rap Album, weeks before his death on March 31, 2019.
THE TRAGIC DEATH OF NIPSEY HUSSLE
Hussle's family and fans were shocked when the news broke that the rapper had been shot dead in front of his store in Crenshaw on a Sunday afternoon.
Hussle, who was scheduled to meet police officials the next day to discuss ways to end street violence in South LA was killed by a man with gang affiliations.
Thousands gathered at Staples Center to attend the Celebration of Life memorial service for Nipsey Hussle
LAUREN LONDON'S TATTOO HONOURS NIPSEY
London subsequently had a tattoo done to memorialize the rapper on her arm.
The tattoo consists of an image of Hussle, with the phrase "God will rise," matching the ink under the rapper's right eye.
The actress captioned the post:
"Real Love Never Dies. When you see me, you will always see him #LoveYouHussle #TMC"
FANS OF NIPSEY HUSSLE LASH OUT AT LAURA INGRAHAM
While many were mourning the passing of Nipsey Hussle, Fox News viewers were shocked to see anchor Laura Ingraham smiling and laughing as she reported on the memorial service and funeral which had been held in LA on April 11.
Justin Bieber lashed out at the journalist:
"Laura Ingraham absolutely disgusting what you did on national television. How dare you laugh in the face of a person who has passed on. Doesn't matter who it is. But disrespecting [someone] who was a pillar in the community and did right by people? "
Bieber was joined by The Game, T.I., DJ Quik, and Luenell is disapproving of Ingraham's disrespectful attitude.
NIPSEY HUSSLE'S MEMORIAL AT STAPLES CENTER
On April 11, 2019, thousands gathered at Staples Center to attend the Celebration of Life memorial service for Nipsey Hussle, at which Lauren London delivered a moving tribute to the rapper.
London shared a text she had written to the rapper shortly before his death:
"Ermias, I want you to know I feel real joy in my heart when I'm around you. I feel safe around you; protected. Like a shield over me when you're around, I am totally myself when I'm with you."
With a tremble in her voice, the actress referred to Hussle the pillar of her life, and revealed that she had never felt such pain.
London was joined on stage by their two-year-old son Kross, Hussle's seven-year-old daughter Emani, and London's nine-year-old son from a previous relationship, Cameron.
Please fill in your e-mail so we can share with you our top stories!