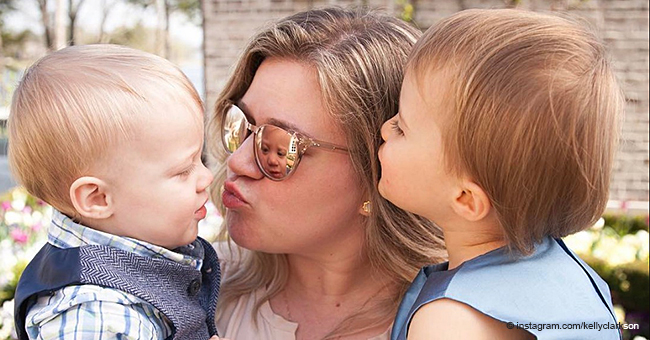 Kelly Clarkson Explains Why Her Kids Know the Truth about Their Easter Baskets
This Easter, Kelly Clarkson made sure no bunny hopped off with the credit of her hard work and shared why she told her kids where their Easter baskets really came from.
The 36-year-old decided that the time had come for her three-year-old son, Remington, and her four-year-old daughter, River to know that she and her husband, Brandon Blackstock are responsible for their yummy baskets.
When the children's nanny came in the next morning, Kelly fleetingly wondered whether she "has done right" by the holiday, as she told PEOPLE:
"Even my nanny came in this morning and was like, 'What did the Easter Bunny bring?' And I was like, 'Wait what?' I kind of just was like, 'Mommy and daddy did these for you.' I knew my mom always did it — maybe don't show this to children."
Kelly felt like the time has passed on "giving credit to non-existent things" and added, "Like I'm very busy, and I took the time to shop at Target and put this all together. I did this — no bunny! They got chocolate, so they're fine."
The family had a fun filled day that started with the kids opening their baskets followed by the age-old tradition of an egg hunt.
The singer shared her plans for Sunday on Twitter and included loads of family time, treats, and later on some work as she wrote:
"I don't get many days to actually work on my record," she told the publication. "So yeah, I had to work on Easter. Jesus didn't mind; he told me."
The Voice coach spoke to radio.com in January last year and shared more on her parenting style, perhaps more accurately, how she disciplines her two kids.
"I'm not above spanking, which people aren't necessarily into and I don't mean hitting her hard, I just mean a spanking," she said.
Kelly grew up getting spanked when her parents thought it was needed and said that she "did fine in life." Admittingly she added that giving her children a spanking in public can be "tricky' because people think there is something wrong with it, but she is as good with giving a spanking as she was receiving one as a child.
Being from Texas, Kelly said that it was common practice to give spankings while growing up, with her mother even having called the principal at times to give her permission to spank Kelly for getting into trouble.
Shortly before Easter, Kelly had her first day back on the set of The Voice and started the new season with a bit of mischief. She snuck into her fellow coach on the show, Blake Shelton's trailer and planted a reminder of her coaching success.
Please fill in your e-mail so we can share with you our top stories!