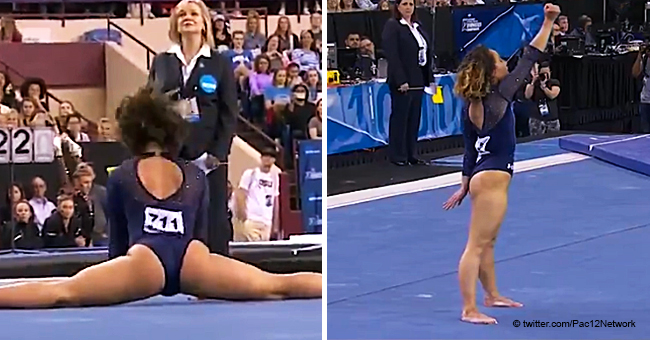 Katelyn Ohashi, UCLA Gymnast, Stuns with Her Final Collegiate Routine
Katelyn Ohashi performed the final gymnastic routine of her collegiate career, and it was absolutely incredible, landing her an almost perfect 10 score.
Katelyn Ohashi, 21, is a name known in gymnastics, especially after her viral video earlier this year and her couple of perfect 10 floors. Once again, she stunned the crowd as she performed her last competitive performance of college on Saturday.Her astounding routine earned Ohashi a score of 9.950 out of 10 at the NCAA Women's Gymnastics National Championship and congratulations from Simone Biles, a US Olympic gymnast who she has competed and defeated during the American Cup in 2013.
Numerous Twitter users also extended their congratulations and kind words of praise to Ohashi after her final performance was posted online.
Another video was posted by her school which shows the head gymnastics coach, Valorie Kondos Field, giving instructions to Ohashi during their last practice. After Field walks away, fighting back the tears, Ohashi runs up to give her coach a tight hug.
The University of California, Los Angeles senior gymnast, has a forward-looking career which is nothing to doubt as raw talent shows in her floor routines, but her plan follows a different path, making Saturday's performance the last one ever.
However, a similar idea sparked before entering college, when she thought she would leave the sport behind for good; but look where she is now.
Just last month, Ohashi landed yet another perfect 10 on her floor exercise which she performed to a mash-up of Earth, Wind, & Fire and Jackson 5, going viral.
The gymnastics superstar always had a love for the sport, but as the entered elite gymnastics, she realized that it could be "abusive and brutal" because of the cruel culture that dictates how she should be.
However, it was also because of the same culture that she was able to grow, learn, and speak up, which she could not do at a young age. She was washed away by everyone else's voice who dictated what her dreams and goals should be.
When she was 16, Ohashi went through a back problem which prevented her from doing the sport for a while. She switched from the Olympics to college gymnastics and entered UCLA instead.
From then on, her views and thoughts about who she was and how she perceives greatness changed, with the help of the coaches and people who were with her. She found an eternal joy that filled her heart and life as she performed to be her best.
Please fill in your e-mail so we can share with you our top stories!