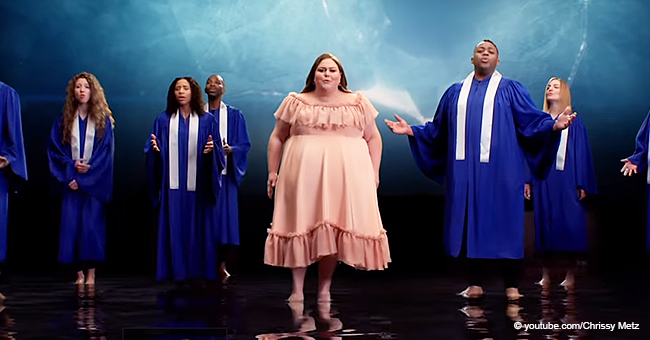 Chrissy Metz Walks on Water in First Music Video While Showing off the Power of Her Voice
Chrissy Metz recently released her first music video on her YouTube channel for her track from the movie "Breakthrough." Standing amid a stage of water, the star sings the emotional song in her captivating voice.
The song was written by 10-time Oscar nominated songwriter Diane Warren. Metz reminds fans to not lose faith during hard times as she walks across the stage on water.
The "This Is Us" star recently performed the song at the 2019 ACM Awards with Carrie Underwood, Maddie & Tae, Mickey Guyton, and Lauren Alaina, which was her first live TV performance.
"The song is so beautiful, and I think it needs to be heard," Metz told a source. "The fact that the other girls who are on the soundtrack — including, of course, Lauren, Carrie, Mickey, Maddie & Tae — I'm like, listen, I'm going to push past the fear and do this because it's something I've always wanted.
"At the end of the day, after being prepared and who knows what goes on during the day, but what's going to happen is going to happen, and if I stay present and authentic then that's all I can ask of myself," Metz added.
Metz further shared how she wanted to be a part of the movie as soon as she read the script.
"After I read the script, just as anything I want to do, I wanted to change people's hearts and minds, even if it's just a crack. I never thought I could get through something like this, but if someone else has done it, maybe I should keep trudging."
"Breakthrough" revolves around the true story of Joyce Smith (played by Metz), a mother whose son falls through an icy Missouri lake and is trapped underwater for over 15 minutes. Although her son's survival chances are slim, the mother refuses to lose hope.
Please fill in your e-mail so we can share with you our top stories!