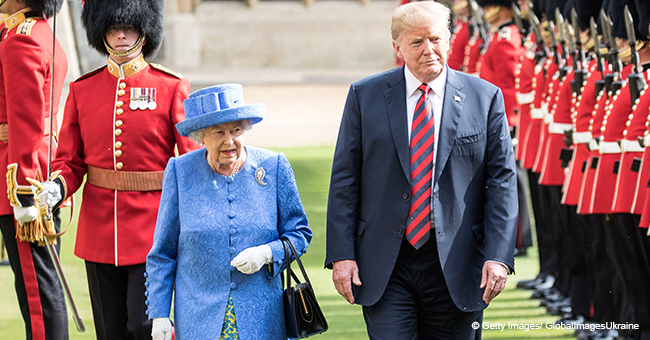 Queen Elizabeth II Sparks Controversy by Inviting President Donald Trump and Melania to London
On Tuesday, "The Royal Family" Twitter account revealed that the Queen had invited US President Donald Trump and his wife to come to the UK for a state visit.
The Trump's are set to visit have from June 3 to June 5. Their July 2018 visit to London wasn't considered an official state visit, and they didn't get to join the Queen at Buckingham Palace.
Instead, the couple was greeted by protests in London and an inflatable "Trump baby" balloon. The massive balloon was seen flying near the Houses of Parliament and Westminster Abbey.
After the news came out of the planned visit, UK residents shared their displeasure on social media. A Twitter user named Zoe Margolis wrote, "He's not welcome here, ever."
Someone named Melanie Hoskin teased:
"Cheapest way to host this state function (as it's taxpayer money): decorate Victoria Station McDonalds for the banquet and host it there. They are fine for moody toddlers parties - and we know he likes the food."
Marc Limon simply wrote: "You shame us." While nippysweetie added: "Sorry but this man is not worthy of such an honour. He is a man who lies and who has no respect for the oath of office he took. He decries a free press and cosies [sic] up to dictators. Disgusted by this."
Their American counterparts were more hopeful for the visit with ChadM writing: "Keep him, don't send him back lol." Marge Schrempf mocked the president saying: "As an American, you have my sincerest apologies for the behavior he will display. He doesn't reflect our values."
"The Sunday Times" was the first to report about the planned visit earlier in the month. The publication initially thought the visit would coincide with the 75th anniversary of D-Day, which is on June 6.
Please fill in your e-mail so we can share with you our top stories!