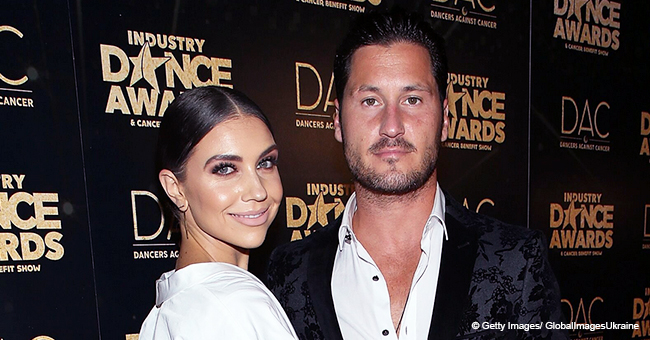 Jenna Johnson of DWTS Flaunts Rock-Hard Abs in Honeymoon Photo with Husband Val

DWTS newlyweds, Jenna, and Val Chmerkovskiy, look great in new photos as they bask in their new phase of life.
The new couple is enjoying the quality time together as they honeymoon in a tropical location a few days after their seaside wedding at the Terranea Resort in California.
The "Dancing With The Stars" pros seem to be having a time of their lives as they post beautiful photos in their separate social media platforms. Chmerkovskiy on his Instagram page, shared a fabulous photo of him and his new bride as they looked amazing in bath suits.
The photo was taken at a vantage point while the couple stood in front of the St. Lucia waterfalls. His caption was a long thought-provoking message on gratitude.
"Got to explore the beautiful island of St.Lucia with my love yesterday. As we ventured between one pristine location to the next, I asked Henna how she was doing (and yes I sounded like the typical New Yawkah 'how you doin') she replied I'm grateful. Perfect response to a perfect day,"
Chmerkovskiy wrote as he praised his lover. At this point, it seemed like he picked the cue from his wife's response and decided to share his thoughts on being "grateful."
The dance expert relayed some truths about himself as he stated that he experiences daily anxiety even though he has it good. According to him, his usual expression of gratitude usually helps him get over the unsettling feelings.
"I struggle with anxiety and doubt almost on a daily basis. It comes in waves. Even in paradise, even alongside my true love, even with my health and the luxury of streaming the last episode of G.O.T, there is still a periodical feeling of… whatever that feeling is, I find action and a reminder of gratitude to be the remedy," Val wrote.
The DWTS celebrity continued as he encouraged fans to cultivate the habit of showing gratitude even as they forge ahead in life.
"The state of gratitude will lead you to a place of peace and love. At Least it does for me...every time. And boy are there things to be grateful for in this beautiful world of ours. May your day be full of both" Chmerkovskiy concluded.
Jenna Johnson on her part is also grateful, and she did not fail to share their lovely honeymoon photos as well. The 25-year-old dance star shared a bikini photo of herself on Instagram as she sunbathed on a beach.
In the photo, Johnson donned a hat that had "Mrs. Chmerkovskiy" printed on it. Jenna and Val were joined in holy matrimony on April 13 after two years of dating.
Please fill in your e-mail so we can share with you our top stories!