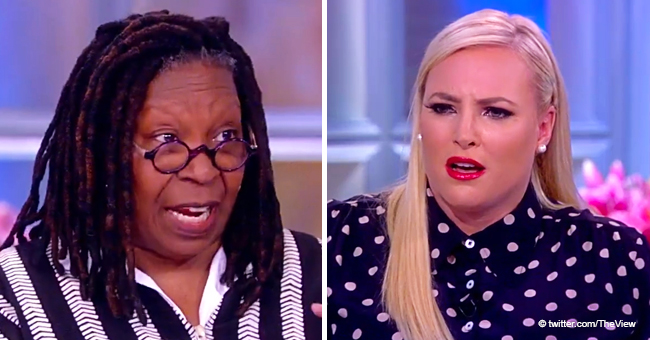 Meghan McCain & Whoopi Goldberg Get into Heated Debate over Voting Rights for the Boston Bomber
Meghan McCain does not see eye-to-eye with her colleague Whoopi Goldberg when it comes to supporting a proposal that would give felons a voting right. Tuesday's episode of "The View" saw the co-hosts disagree over the matter surrounding voting rights for criminals, including the Boston bomber.
When Goldberg argued the justice system indicated that terrorists were fit to vote upon being released from the prison, a shocked McCain disagreed with her, saying he "killed people."
The duo referred to Boston bomber Dzhokhar Tsarnaev as they debated on his voting rights.
McCain called the bomber a "rationalized terrorist" while Goldberg said "lots of people" did what he did.
"Our Constitution says if you've done your time, you have — we hope — been reformed, you've been changed ... If they let him out, that means they feel his time is up and he gets to become the American citizen again," Goldberg said.
Their debate sparked after Sen. Bernie Sanders defended voting rights for felons including the Boston bomber.
"I think the right to vote is inherent to our democracy. Yes, even for terrible people, because once you start chipping away and you say, 'That guy committed a terrible crime, not gonna let him vote. Well, that person did that. Not gonna let that person vote,' you're running down a slippery slope."
Goldberg opined that the justice system was able to reform people to the extent that they could vote as citizens.
"That's what prison reform is about. If they let this man out, they are saying 'he has been reformed, we have fixed him — rehabilitated him,'" Goldberg said.
As Goldberg continued to defend her point by saying the felon served his time and should be granted a voting right since he is an American citizen, McCain let out a gasp.
After Goldberg asked McCain why her mouth was open like that, she said Tsarnaev "killed people" and that he is a "radicalized terrorist.
No matter how much they argue, the co-hosts always find a way to settle their differences.
Please fill in your e-mail so we can share with you our top stories!