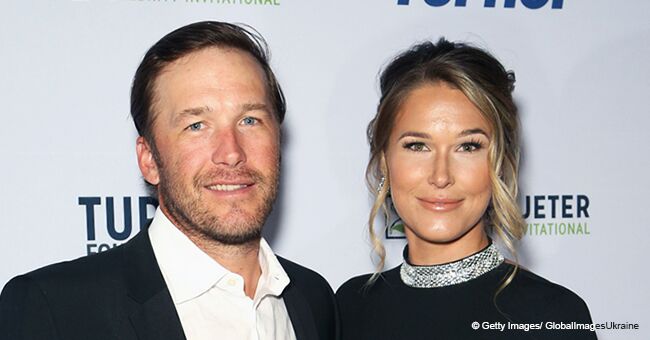 Bode Miller's Wife Cries as They Teach Their New Baby to Swim after Daughter's Recent Drowning

Morgan Miller cried tears of hope as she and her husband taught their baby boy the life-saving skill of swimming, after their losing their daughter who drowned.
It is never easy to lose a child, and the pain does not wash away after it happening. Former American World Cup alpine ski racer, Bode Miller, and his wife, Morgan Miller, experienced the sorrow of losing their daughter, and delight in having a son.
Through her Instagram stories on Monday, Morgan shared her baby boy's first swimming lesson, adding her happiness and sadness amid watching her 6-month-old son, Easton, experience learning a "life-saving skill" that could have saved her daughter's life.
The first post included her youngest child wearing a yellow swim top and trunks, with an instructor helping him stay afloat. Easton spends about ten minutes in the pool each day to learn how to swim, she wrote.
Morgan also shared that she cried both "tears of hope" and "tears of sadness" amid the lesson as teaching her daughter to swim was "all I had to do to keep my baby girl here."
Easton is under a program called Infant Swimming Resource (ISR), which teaches the basics of aquatic safety for infants and children, a simple way of preventing accidents that can take away lives unexpectedly.
Emeline was 19 months old when she drowned in a backyard pool accident at their neighbor's place.
Morgan took more Instagram stories of her son's swimming lessons on Tuesday, learning the "float, rest, and breathe," which is part of the ISR program. One post included a video of Easton smiling while lying on his belly.
The couple has two sons, Nash, 3, and Easton, who was born four months after their 1-year-old baby, Emeline, drowned in a pool. Bode also has children, Samuel and Neesyn, from previous relationships.
Emeline was 19 months old when she drowned in a backyard pool accident at their neighbor's place. Bode was not present when it happened, while Morgan was inside the home when their daughter was gone for a while.
"I can attest from firsthand experience now that it's unbelievably quick and it's unbelievably sneaky," she said.
A year after the tragic accident, the couple's midwife and close friend, Lindsey Meehelis, shared a photo from Emelines funeral where she delivered a eaulogy. She called out to parents to commit to take preventive action for their children and "get them watersafe."
Please fill in your e-mail so we can share with you our top stories!