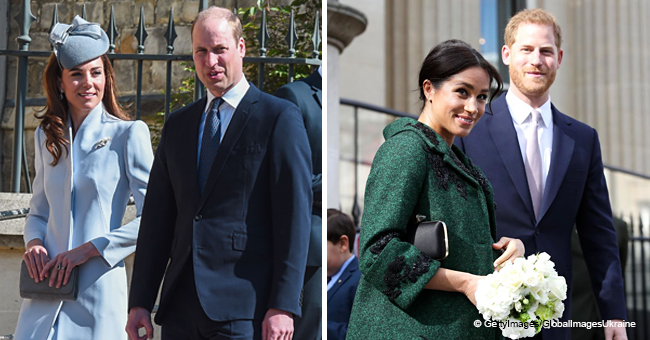 Meghan and Kate: Royal Photographer Reveals the Amazing Difference between Capturing Them
Photographer Tim Rook shared some insights he has had in his years capturing the Royals' most remarkable moments, and he cited surprising differences between photographing Meghan Markle and Kate Middleton.
Tim Rook's job as a royal photographer has given him the rare privilege of spending his days in the proximity of the members of the British Royal Family, something most of his fellow countrymen can only dream of.
Having covered the royal events for decades has granted Rook access to historical milestones of the House of Windsor, from late Princess Diana's last official appearances to the birth of Prince George.
Ever since 37-year-old Meghan Markle joined the Royal Family in 2018, the former actress has been compared to Kate Middleton, with insisting rumors of a feud between them, and Rook also has something to add to all this.
Rook has witnessed the nature of the Duke and Duchess of Sussex's relationship since very early, and he can confirm what many news outlets and royal fans have noticed before.
The photographer followed the couple´s recent trip to Australia, New Zealand, and the Pacific Islands, which included the 2018 Invictus Games, and he was positively impressed by "how affectionate they are with each other."
"It's refreshing to see how intimate they are as a couple as they often spend their whole time holding hands when they are together," he told Daily Mail.
This is the main difference Rook sees when photographing Harry and Markle compared to Prince William and Middleton, who are more traditional in their body language when in public.
Rooke, who captured the Cambridge's post-birth photos when both Prince George and Prince Louis were born, was approached by the news outlet to ask him about how he thinks Harry and Markle's birth announcement will be different.
"We now know that Harry and Meghan will not have a traditional post-birth photo call, which definitely goes against the norm," Rook said.
"Given that the couple have recently created an Instagram page to document their activities it's more likely that the first image of Baby Sussex will be posted and shared widely to the public via Instagram," the expert added.
Markle and Middleton's differences in body language during their pregnancies have also been scrutinized obsessively by the public, photographers, commentators, and body language analysts.
According to Express, the main differences have much to do with the ages when pregnant. While Markle is expecting for the first time at 37, Middleton is already mother of three children at 36.
As body language expert Judi James told the news outlet, Markle's pregnant behavior is more enthusiastic and showy compared to that of Middleton's on her latest pregnancy, because is the former's first time.
"Meghan has been a 'bump-toucher' from the day her pregnancy was announced though and ever fiber of her body language, from the bump-covering hands to the knowing, excited smile, lets us know she's pregnant and wanting everyone else to know too," James noted.
"Meghan's bump-cradling also suggests she will be an openly doting and enthusiastic mother," the expert added.
"Kate's 'bump behavior' is very indicative of her rather more formal, careful and understated approach to being a royal," continued James.
"Meghan's more open style of sharing her story leads to the kind of announcement gestures that form a very public declaration of her delight and pride at being a mother to be," she said.
Please fill in your e-mail so we can share with you our top stories!