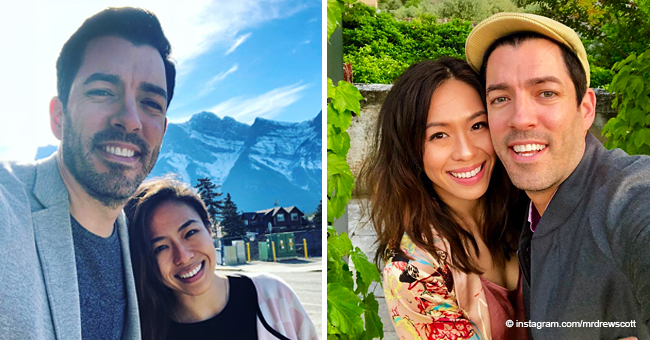 Drew Scott of 'Property Brothers' Gushes over 'Most Beautiful' Wife in a Sweet Birthday Tribute
In a romantic gesture, Drew Scott paid a sweet tribute to his lovely wife Linda Phan on her 34th birthday on his social media account. The "Property Brother" star sure knows how to make his wife feel special!
Scott shared a picture of himself surrounded by beautiful green plants with his beloved wife Phan on her special day.
"You are the most beautiful, supportive, fun and passionate person I've ever known. I'm so lucky to be able to call you my wife and best friend. #happybirthday Lindy," he wrote.
The couple, who got married in Italy in May 2018, went on a honeymoon trip to Ecuador with ME to We, which is a social enterprise that organizes trips to India, kenya, and Ecuador. The visitors can meet locals and contribute towards making a positive impact in their lives.
300 of the duo's close friends were flown from the US, Scotland, Latin America, and Canada to attend the ceremony. The wedding was documented for a TLC special "Property Brothers: Linda And Drew Say I Do," which aired on June 2, 2018.
Scott and Phan first met in the Toronto Fashion Week in 2010 and later got engaged in December 2016. After that, Phan was appointed as the creative director for Scott Brothers Global.
According to a source, the couple said they were "still floating on clouds" when asked about their marriage.
"Surrounded by so many loved ones in such a beautiful place was unreal. We are very, very lucky. Friends, family, amazing food, blue skies and being even more in love than ever before — what more could we ask for?" they said.
Scott recently talked about expanding his family in an interview.
"We don't know — do we want to have two, four, 15? We don't quite know. " he said. "I have to talk to Linda about that. We look forward to having kids. No screaming rush. We have nieces and nephews that we get a lot of our playtime with, so for now we can get them hopped up on sugar and then pass them back to the parents."
Please fill in your e-mail so we can share with you our top stories!