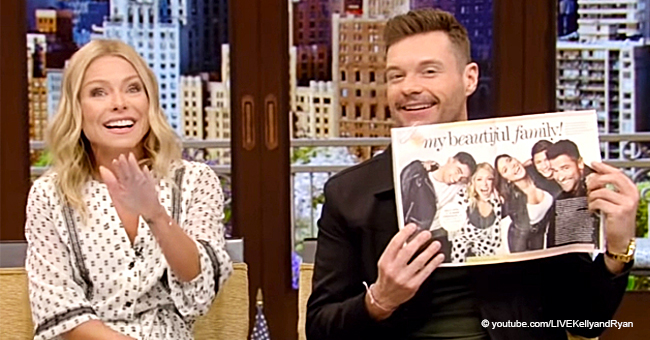 Kelly Ripa Reveals Pic of Her 'Most Beautiful Family on Earth' that She Chose as a Christmas Card
Kelly Ripa shared the photo she picked out for her family Christmas card this year, and it is the same photo from "PEOPLE" magazine's shoot which all of her three kids agreed to do.
Kelly Ripa is one to think ahead as she readily picks out the family photo which will be in their Christmas card this year. The co-host shared her pick on Wednesday's episode of "Live! With Kelly and Ryan," spilling behind-the-scenes tea with Ryan Seacrest.
"PEOPLE's 2019 Beautiful Issue" featured Ripa's family, calling them "the most beautiful family on earth." Her family had two whole pages of the magazine for their portrait, which included the host's husband, Mark Consuelos, 48, and their three children, Michael, 21, Lola, 17, and Joaquin, 16.
The portrait shows a happy Consuelos family, with Ripa's facial expression particularly standing out as it was overwhelmingly pleased. She explained the reason behind that photo to be her children agreeing to do the pictorial.
What made the photo extra special was the fact that their kids like to keep a low profile, shying away from the limelight, hence the big celebration for their parents and the use of the photo as a Christmas card.
"I said, 'May I, might I, be able to choose a photo to have as my Christmas card?' -- and they said yes," Ripa shared. "So thank you PEOPLE, and that is why this is the look on my face on every photo."
The mother of three also revealed that no one fought during the shoot, which is a big deal and a rare sight for the family.
"I think it's beautiful and it shows how close you guys are. Your mouth, your face says that you did it. You raised these great kids, and you have this great family," Seacrest replied.
Ripa and Consuelos have a great family, with an even greater love story to match. They are one of Hollywood's longest-running couples, having their relationship date back to 1995 when they met on set for "All My Children" and started dating shortly after.
The following year, Consuelos proposed while having pizza and wine, then eloped to Las Vegas to get married in a chapel they found in a phonebook. It was a story straight out of a film.
In 2007, the couple incorporated their own production company, Milojo, which is named after the combination of their kids' names. Up until now, they still share the same love for each other, which they are not shy to show on social media.
Please fill in your e-mail so we can share with you our top stories!