TV Host Slams Meghan Markle's Dad as an 'Absolute Toerag'
Good Morning Britain discussed Prince Harry, and Meghan Markle's reported plans on moving to Africa after the birth of their baby, but the discussion soon turned to Thomas Markle.
Royal biographer Hugo Vickers and The Sun newspaper's royal correspondent Emily Andrews joined the TV hosts with the main topic surrounding the royal couple's Africa trip.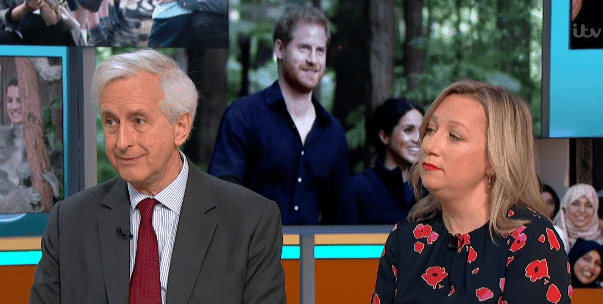 While discussing whether the trip is meant to combine charity work with an ambassador role or just a "glorious gap year funded by the taxpayer," the conversation turned to Meghan who left people in her "wake" since she married Prince Harry.
"And there's also that fracture in her family and the fact she no longer speaks to her father," Susanna Reid from Good Morning Britain said, which steered the conversation towards Meghan and her father's relationship.
Susanna's co-host, Richard added, "Do you blame her for not talking to her dad because I don't? I think he's an absolute toerag."
Since Thomas Markle staged pictures with the paparazzi and leaked the contents of a private letter to her father, Meghan froze him out. Susanna thought it "sad" that their relationship had gone down that path and added that Thomas made a "terrible error" when he leaked personal information to the press.
"Errors plural. And everything else since. Talking about her in great intimate detail, I think it's the behavior no father should be indulging," Richard added.
Hugo, the royal biographer, expressed sympathy towards Thomas as he said, "I think it's very sad actually. I think he's rather a broken man," to which Richard responded, "He's broken himself."
Richard then compared Meghan's mum, Doria Ragland's behavior to that of Thomas' and pointed out that she hasn't "put a foot wrong," while the rest of the panel agreed. "I couldn't agree with you more, the mother has completely avoided every possible contact with the media," Hugo added.
The topic shifted focus again at the mention of Meghan's baby, who is "due this week," as they all hope that the birth baby Sussex will help to heal their fractured relationship.
"I'll get an email from Buckingham Palace to say that she's gone into labor. I doubt we are going to be told at the first contraction. I suspect we won't get this email that she's gone into labor until she's quite well advanced," Emily Andrews added.
After a British newspaper reported in April that senior courtiers are developing plans for the royal couple to take on a "bespoke" role, most likely in Africa, rumors started circulating.
Commonly it got deducted that they would be moving, suitcases and all to another country for up to three years, but a friend of the couple told BAZAAR that this is not the case, "Britain is their home and where they want to raise their family. If they are to work abroad, it would be a short stint."
Buckingham Palace did not deny or confirm the report and told the publication that "no decision has been taken about future roles."
Meanwhile, Piers Morgan also voiced his opinion on the reported Africa move and accused the royal couple of wasting taxpayer money. He complained that the people would have to foot the bill for the royals that want "to be King and Queen of Africa" and elaborated on money being "extravagantly" spent since Meghan married Prince Harry.