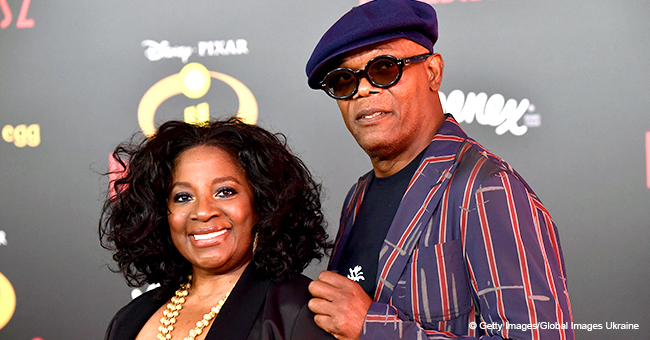 Samuel L Jackson & wife LaTanya reveal what makes their marriage more enduring after 39 years
Samuel L.Jackson credits his wife of 38 years for their enduring marriage, and much of his success,
Legendary actor Samuel L. Jackson revealed the secret to his 38-year-long marriage to LaTanya, especially in the fickle and shallow world of the Hollywood movie industry.
Jackson, who is one of the most respected and successful actors of his generation, attributes his brilliant career to his wife's influence.
"The other two people that challenged me on a regular basis are my foundation and support, my daughter Zoe and my wife LaTanya."
SAMUEL L. JACKSON'S ADDICTION TO DRUGS
Despite being a well respected and sought after actor, Jackson admits that he was addicted to drugs, and spent most of his time under the influence of crack.
The low point came when his wife and then 8-year-old daughter Zoe found him unconscious on the kitchen floor surrounded by drugs and paraphernalia.
SAMUEL L. JACKSON'S WIFE PUT HIM IN REHAB
LaTanya persuaded Jackson to go into rehab for his crack addiction, and her winning argument was that being sober would make him an even better actor. And she was right.
"She'd say: 'You're so intelligent that the first time you read something, you think you understand it intellectually and emotionally … But there's no blood in it," he revealed.
AFTER REHAB CAME THE BIGGEST ROLES IN HIS CAREER
Just weeks after he left rehab, Jackson started shooting Spike Lee's "Jungle Fever" in which he played an addict to critical acclaim, and even won the 1991 Cannes Film Festival special "Supporting Actor" award.
Zoe has followed her parent's footsteps into the entertainment industry, and is a successful producer and director
SAMUEL L. JACKSON HAS STARRED IN OVER 100 MOVIES
From then on, the sky was the limit and Jackson would go on to star in hit after hit, such as "Patriot Games," "Jurassic Park," cult classic "Pulp Fiction," "Django Unchained", and more recently he has played Nick Fury in the Marvel Universe franchise movies.
At 70, and with over 100 movies under his belt, Samuel L. Jackson shows no signs of slowing down.
LATANIA RICHARDSON AND SAMUEL L JACKSON'S DAUGHTER ZOE
The little girl who found her father unconscious on the floor in a drug stupor is all grown up.
Samuel L. Jackson's daughter Zoe Jackson is now 36, and a powerful strong-willed woman, whom her father describes as taking after her mother LaTanya Richardson.
Zoe has followed her parent's footsteps into the entertainment industry, and is a successful producer and director, known for "Top Chef," "Too Saved," and "Everything Is Samuel L. Jackson's Fault."
The latter is a delightful short, in which parents of recalcitrant children blame Samuel L. Jackson for their behavior after watching one of his movies, starring Samuel L. Jackson as himself, and directed by Zoe.
Please fill in your e-mail so we can share with you our top stories!