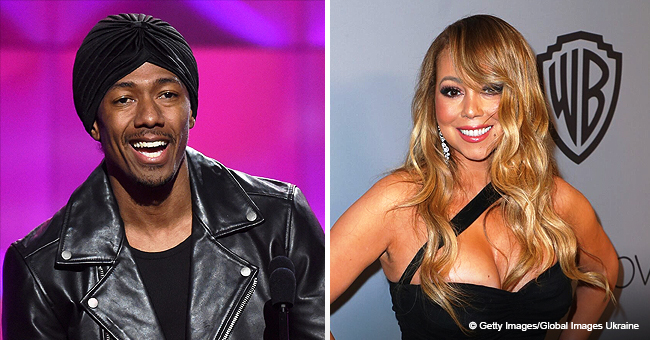 Nick Cannon Spent Easter with His Twins, Son Golden, Mariah Carey, Brittany Bell (Photos)

This Easter season has been a joyful one for many families and it served as a way for many to hang out with their loved ones. It was no different for Nick Cannon and his family as he spent time with his children and baby mamas.
Easter season was a joyful one for the Nick Cannon household. The multi-talented star spent time with his children and their moms on Easter and they all had a great time together.
Images of their time together were seen on social media after Mariah Carey and Brittany Bell shared them on their Instagram pages. Brittany Bell, who has a son, Golden Cannon with Nick posted pictures and videos of her and Nick helping Golden to find his Easter eggs.
Nick was hilariously dressed like an Easter bunny. Golden also seemed to enjoy his search for the eggs. In one of the videos, he and his mom found one Easter egg on a tree, and when he opened it, he found a green Dinosaur toy inside. He really is a great hunter, isn't he?
Mariah Carey, on the other hand, posted an image showing herself, Nick and their twins posing during their family dinner. Again Nick donned an Easter Bunny hood, while his twins, Monroe and Moroccan Scott looked as adorable as ever.
Nick is very good at parenting as it seems and is always there for all of his children, even though he may fail at daddy duties sometimes. The rapper recently revealed to "PEOPLE" how he was scared one time when his daughter Monroe fell hard from the top of a jungle gym while trying to show him her moves.
He explained that she was unhurt from the incident, but he was so scared then, though he tried to act as normal as possible so as not to freak the twins out. Nick Cannon and Mariah Carey divorced in 2016 after about eight years of marriage. They have remained friends since their divorce and always come together to celebrate their twins birthdays and family reunions.
The singer once revealed that she never thought she would divorce Nick Cannon, while Nick stills see her as a great person and his "Home Girl." Nick's youngest son, Golden Cannon turned two in February and daddy was there to celebrate with him, alongside mom, Brittany Bell. Nick Cannon is one definition of the word "Super Dad," and makes sure he is ever present for all of his children. Thumbs up Nick!
Please fill in your e-mail so we can share with you our top stories!