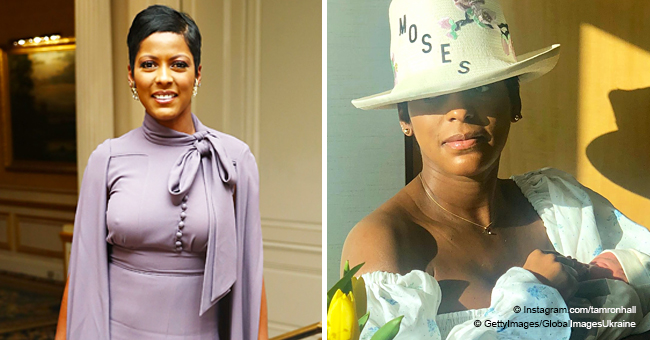 Tamron Hall, Former 'Today' Host, Welcomes Her First Child, Moses
A new baby is here! Former "Today" show co-host Tamron Hall just gave birth to her first child with husband, Steven Greener.
The excited mother shared the good news on Instagram with a photo of her wearing a hat decorated with the name of her newborn son "Moses."
She captioned the photo,
"Moses & Mama!! I can't wait to introduce y'all to my #sonshine."
Hall also gave a shout-out to her husband Steven for taking the picture and joked that the new dad couldn't stop shedding tears of joy.
She further thanked all her fans for their love and support through the years stating that the act of kindness got the family where they are now.
Hall first announced her pregnancy publically last month when she was already 32 weeks pregnant. The then-pregnant beauty stated that she had wanted to share the news with her fans, but she also wanted the pregnancy to be safe and only announced it because her doctor felt that the pregnancy was safe at 32 weeks.
Tamron has always expressed her desires to start a family as she has said a few times in a blog for "TODAY" that she wished she had "started the process" of conceiving in her twenties.
Last week Hall celebrated her baby shower with her close friends at Jung Lee New York. She shared a series of pictures from the celebration with which she attached the message,
"Love, Laughs, and Surrounded by my friends from #philly #chicago #newyork and of course #texas."
In the pictures, Tamron could be seen in a yellow and white outfit smiling and giving out hugs. A few days before giving birth she revealed that she had created a baby delivery playlist which includes Al Green's "What a Wonderful Thing Love Is."
We wish Hall the very best and a hearty welcome into the world to the little toddler.
Please fill in your e-mail so we can share with you our top stories!