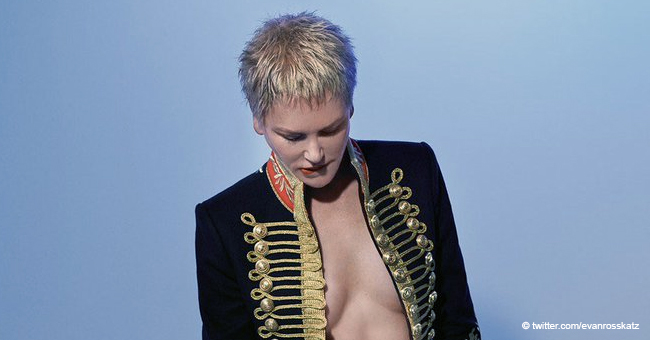 Nicole Kidman Shirtless in a Band Jacket Looks Unrecognizable with a New Haircut
We have seen many avatars of the beloved actress Nicole Kidman but nothing prepared us for the awesomeness of her latest look! The 25-year-old stunned in her new hairdo for her Vanity Fair spread.
The star looked chic in a blonde pixie cut as she flaunted her toned physique with cleavage in a carefully unbuttoned black Paco Rabanne band jacket paired with black leather trousers.
Recently, the actress shared her experience of living in Nashville for the past 13 years, saying she enjoys life away from the Hollywood spotlight. She and her husband, Keith Urban, live in Nashville with their two daughters, Sunday and Faith.
'They don't have a phone and I don't allow them to have Instagram,' Nicole said. 'I try to keep some sort of boundaries.'
She also revealed how her daughters' interest in music and acting is peaking whether she wants it to or not.
'You can't really get kids into anything, I've realized. You can push them a bit, but motivation is a really hard thing," she said.
The "Big Little Lies" star further said nobody motivated her to be an actor.
Big Little Lies is returning to screen with its 2nd season on June 9. Kidman said she enjoyed spending time with her castmates, Zoë, Shailene, Laura, and Reese, on their hit HBO series.
Kidman is currently busy filming her new series "The Undoing", where she stars with Hugh Grant and Edgar Ramirez. The series is based on the book by Jean Hanff Korelitz called "You Should Have Known."
The Hollywood diva was previously married to Tom Cruise. She had two children with Cruise, Conner and Bella, who are now adults and busy with their personal lives. Their son Connor is into music while daughter Bella recently launched a new line of T-shirt "BKC (Bella Kidman Cruise).
Please fill in your e-mail so we can share with you our top stories!