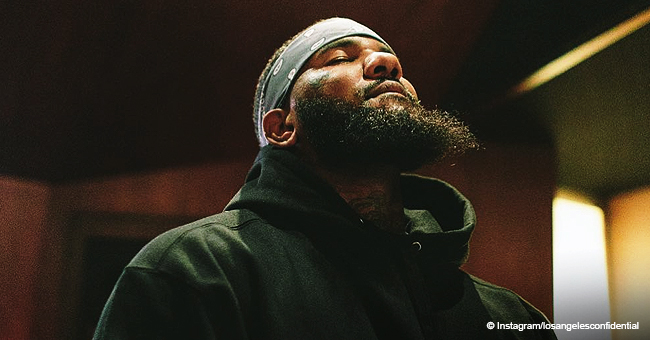 Rapper the Game Talks Nipsey Hussle and His Kids in Tribute Post
As he continued paying tribute to the late Nipsey Hussle, rapper The Game shared a lengthy post alongside a rare picture of Hussle and his kids.
Jayceon Taylor, better known as The Game, has honored Hussle many times since his untimely death on March 31, 2019. The former rapper wasn't just involved in music, but he did a lot for his community before he left.
He was shot outside his clothing store, The Marathon, which was among other businesses he opened that would help create jobs in his Los Angeles community.
The Game has posted a photo of Hussle, or something related to him, several days throughout April as tribute. Most recently, he shared a lengthy post as he reflected on perhaps the most important role Hussle had in his life, that of being a father.
The Game began:
"This is the part of it all that saddens me the most. We lost our brother, friend, and a legendary artist but two beautiful babies lost their father. We lost our brother, friend, and a legendary artist but two beautiful babies lost their father."
The 39-year-old accompanied his message with a photo of Hussle and his two children when they were younger. The former businessman had a daughter, Emani Asghedom who he shared with ex-girlfriend Tanisha Asghedom.
He also had a son named Kross Asghedom with actor Lauren London, who he was together with at the time of his passing. The Game has three children of his own, so his heart went out to the situation that resulted from Hussle's death.
He continued writing:
"And although nip had an unselfish mission & dedication to changing his neighborhood & bettering the hoods & cities around him, I know he wouldn't have been okay with leaving his kids. His entire world revolved around fatherhood. That love fueled his smile & daily energy."
The smiles on the kids' faces in the old photo reminded The Game of his own children and their joy. He also expressed his anger at the alleged killer, Eric Holder, who The Game said he wanted to strangle every time he crossed his thoughts.
The rapper admitted that every day was a challenge due to Hussle's death. He apologized for "rambling" but said that it helped him to cope with the pain. Furthermore, he promised never to let "[Nipsey's] memory fade, EVER."
The Game also shared a picture of his own son that same day. He was proud to reveal that 12-year-old King Justice Taylor wanted to take his birthday off and dedicate the day to his father's late friend.
According to Game's post, when he asked Taylor what he wanted to do on his big day, the boy said he just wants to "ride around" with his dad. He didn't care where they went as long as they celebrated Hussle's life instead of his.
The Game has not only been sharing positive memories and moments relating to Hussle, but he's also been defensive against those who attempt to tarnish the rapper's legacy.
Back in mid-April, a very crude and offensive radio exchange came to light and was initially believed to be from officers within the Los Angeles Police Department.
On the tape, two men insulted Hussle's mother and father. The Game responded by calling out the LAPD. He acknowledged that he is not totally sure it is the LAPD but, regardless, spoke harshly against the department.
In a social media post, he pointed out that it's incidents like the radio exchange which cause people to lose faith in the legal system and believe the police force and government to be corrupt.
He called the tape "disgusting," but discouraged the use of violence in response. He also took the time to praise Hussle's mother. LAPD soon denied that the tape originated from anyone in their department because the audio was analog as opposed to digital.
Please fill in your e-mail so we can share with you our top stories!