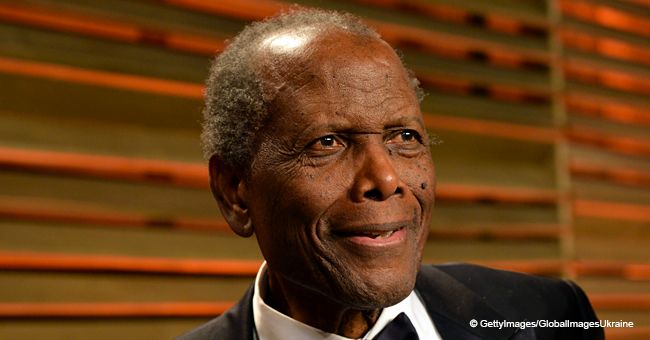 Sidney Poitier Is the Proud Father of 6 Beautiful Grown-up Daughters From 2 Different Women
Sidney Poiter, a multi-award winning actor and director, is most well known for his roles in "Guess Who's Coming to Dinner" and "Lilies of the Field."
Apart from his successful career, Poiter is also a family man. He is a loving dad to his six children, wonderful grandparent to eight grandchildren and three great-grandchildren.
POITER'S RELATIONSHIPS
Poiter was married to his first wife, Juanita Hardy, from 1950 until 1965, and the couple shares four daughters – Gina, Sherri, Pamela, and Beverly.
The award-winning actor met his second wife, Joanna Shimkus in the seventies, and the couple walked down the aisle in 1976. She told the Hollywood Reporter:
"He is the most wonderful, generous, kind, honest man with the most integrity that I've ever known in my life."
In addition to his two marriages, Poiter had a nine-year relationship with actress Diahann Carroll. However, the couple never had children and never wed.
POITER'S DAUGHTERS
He had two daughters with his second wife – Sydney, and Anika. Syndey Poiter followed in her father's footstep and pursued a career in acting.
She landed her first roles in the nineties, primarily in television shows and made-for-television films. More recently, she also appeared in "Grey's Anatomy" and Hawaii Five-0."
In 2014, Sydney landed a recurring role in "Chicago P.D," and also went on to star in the Canadian crime drama, "Carter."
POITER'S CAREER
While the 45-year-old Sydney's career is still going strong, her father retired from acting in 2001. His final role was as Henry Cobb in "The Last Brickmaker in America."
He has, however, appeared in several documentaries since stepping away from his film career. The documentary "Scales of Injustice" is currently in post-production.
In addition, he can also be seen in "History," "Broadway: Beyond the Golden Age," "Sighted Eyes," "The Edison Language Academy," and "The March."
AWARDS AND NOMINATIONS
Throughout his career, Poiter received 41 award nominations and walked away with 26 wins, most notably two Oscars.
He won an Oscar in the "Best Actor in a Leading Role" category for his portrayal of Homer Smith in "Lilies of the Field."
In 2002, he received an honorary Oscar for his extraordinary performances and unique presence on the screen, and for representing the industry with dignity, style, and intelligence.
Other notable wins include a Cecil B. DeMille Award, one Golden Globe, two BAFTA Awards, one Icon Award, three Lifetime Achievement Awards and Grammy Award.
He received his Star on the Hollywood Walk of Fame in 1994.
Please fill in your e-mail so we can share with you our top stories!