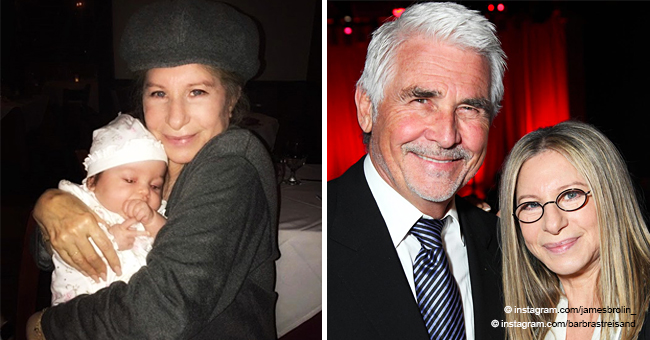 Barbra Streisand's Husband Reveals What It's like to See Her as a Granny

Last year Barbra Streisand became the epitome of grandmotherhood, much to the delight and frustration of her stepson, Josh Brolin.
During a chat with PEOPLE actor James Brolin, shared how his wife, Barbra, who he married in 1998 "completely changes" whenever "baby Bean" is in the room.
The cute nickname refers to James' son, Josh Brolin's daughter, Westlyn Reign, with his wife, Kathryn Boyd. James added that Barbra's pedantry "just goes out the window" when Westlyn is around.
Before Westlyn's birth on November 5, Barbra got excited about the prospect of being a grandma for the first time and got very involved during Kathryn's pregnancy.
Josh told PEOPLE that Barbra would email him almost daily with suggestions of a name for her first grandchild and would ask when she can visit them so she can feel the baby.
When Kathryn got Barbra a bracelet that said "Grandma," she started crying of happiness and clearly took her grandma duties seriously.
She started following the latest apps and told Josh that she knew at what stage the baby became the size of a banana. "It's always weird to me," he joked. "I don't want to think of my baby as a banana or any kind of fruit or vegetable."
However, Josh would have it no other way. "But she's really into it, and I love that she's into it. It's like a very typical Jewish grandmother who's like, saturated by this event. It's awesome," he added.
Shortly after "baby Bean's" birth, the proud new grandma posted a short clip showing off her granddaughter with a caption that read, "We're so happy to welcome Westlyn into the world!"
On Christmas day, Barbra shared a sweet image of "baby Bean's" hands and feet along with a caption that reminded of what is important. "My granddaughter's precious little hands and feet. What's truly important… Life and love," she wrote.
Close to the end of January, the doting grandmother posted another adorable picture of the two of them together. Barbra posed for the camera while holding baby Westlyn, half asleep and sucking her thumb as the two of them looked content.
They were all out for the evening, but Barbra only had eyes for Westlyn as she captioned the image, "We were at a restaurant, but the most delicious thing was my granddaughter Westlyn!"
Barbra Streisand is bound to have a lot of time to dote on "baby Bean" as she told The Associated Press after filming her "Barbra: The Music, The Mem'ries, The Magic! Concert for Netflix late in 2017 that her days of performing had come to an end.
"No, I would never do another show. It's exhausting," she said. "I'm not ever going to sit down and plan another show like I had to do with this one."
A few days ago Barbra turned 77 years old, and James surprised her with something special after he dedicated the day to pampering the legendary star. James' surprise deeply moved Barbra while she also got to spend the day with those closest to her.
Please fill in your e-mail so we can share with you our top stories!