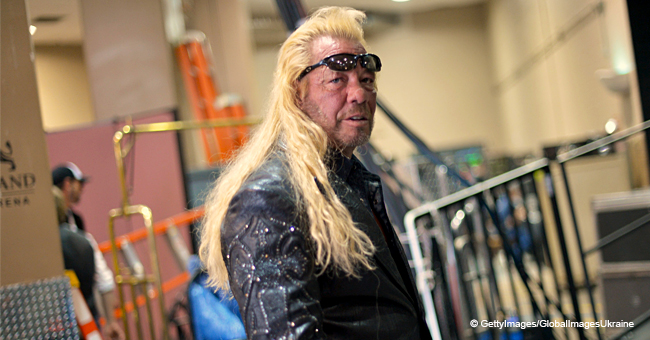 Duane Chapman Needs Community's Help in Searching for a Man Wanted on Several Felonies

Duane Chapman, more commonly known as Dog, the bounty hunter, was recently in Colorado tracking down a man who represents a serious danger to the community.
According to a video shared by his wife, Beth Chapman, Duane was in Pueblo, Colorado, looking for a man named Leonard Trujillo Jr., who is wanted for severe felonies.
In the short clip, the 66-year-old is seen holding a piece of paper with two pictures of the suspect, a phone number and the word "wanted" in big letters.
BACK ON THE HUNT
We're here to make America safe again
But he was not alone at the time the video was taken, as he was surrounded by several people from Pueblo, especially young ones, who joined the bounty hunter in the search.
While speaking to the camera, Duane announced that Trujillo was a menace to the neighborhood, which was why several of the neighbors showed up to help find the criminal.
The "Dog, the Bounty Hunter" star asked for the public's help because, according to him, the only way they will ever be able to find Trujillo is with the through the community itself.
IMPERSONATING DONALD TRUMP
Inspired by the U.S. President's "Make American Great Again" slogan, Duane said: "We're cleaning up America one city at a time. We're here to make America safe again."
But although the bounty hunter was in Colorado, we can't be certain that Beth was there too, as she has been fighting the terrifying stage II throat cancer that returned in 2018.
BETH IS DEAD?
Beth was recently the victim of an online hoax that claimed that she had died. Fortunately, her husband set the record straight by using several social media platforms.
On Facebook he wrote:
"There is a rumor around online that has Beth passed away. This is not true and Beth and Dog and Posse are hard at work catching fugitives and filming their new show, #DogsmostWanted coming later this year to WGN America."
The 66-year-old also used his Instagram page to share a post with a quote that read: "A lie gets halfway around the world before the truth has a chance to get its pants on."
Please fill in your e-mail so we can share with you our top stories!