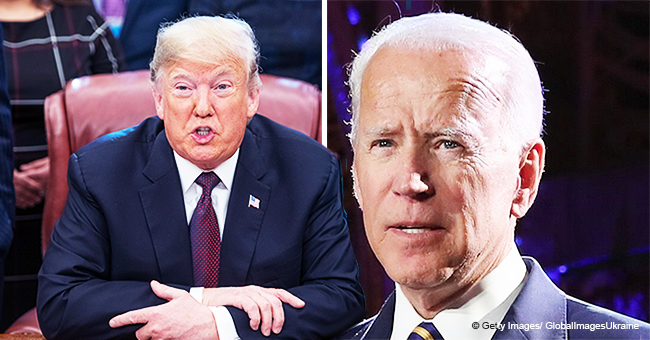 Donald Trump Welcomes 'Sleepy' Joe Biden to 2020 Race: 'It Will Be Nasty'
It is no longer news that Joe Biden has intentions to run for the Presidency in the 2020 elections. The man he seeks to unseat from power, President Donald Trump, hasn't taken any time to welcome him, rather, he pokes some fun at him.
Joe Biden, the former Vice-President, finally quashed rumors and uncertainty surrounding his will to run for Presidency in 2020 when he officially announced his presidential bid on Thursday.
In his statement, he warned that if Donald Trump were in power in the next four years, the nation's character would be fundamentally altered forever. President Trump welcomed Biden to the race on another of his Tweets, labeling him "sleepy" and warning him that he would have a nasty campaign.
The President also told Biden that he hopes that he possesses the intelligence to have a successful primary, as it would be nasty for him since he would be dealing with people with sick and demented ideas. He ended his tweet saying that if Biden makes it to the elections, he would be seeing him at the "Starting Gate."
This is Joe Biden's third attempt at the presidency, after failing in 1988 and 2008. He almost ran in 2016 but had to halt such plans after his son, Beau's death. He joins the ever-increasing list of presidential hopefuls in the Democrats, though he holds the highest percentage of likely becoming the leading candidate with 30%, the closest rival, Senator Bernie Sanders has 24%.
President Trump, however, does not believe that Joe Biden has what it takes to run the White House. He also feels that the other Democrat candidates, though credible, don't have enough qualities to take power from him.
The President has been involved in a series of Twitter rants lately against those he tagged with witch hunting him over the Meuller Probe.
The President shared three tweets, but it seemed he got most of his facts wrong in the tweets. CNN revealed that the President's tweets contained six wrong facts proving that his narrative falls short of the real facts of the probe.
While the President may have gotten some of his facts wrong, some facts about him are right. For example, the President while a teenager was sent to Military school for bad behavior. He is also a Germaphobe and hence doesn't enjoy shaking hands.
Please fill in your e-mail so we can share with you our top stories!