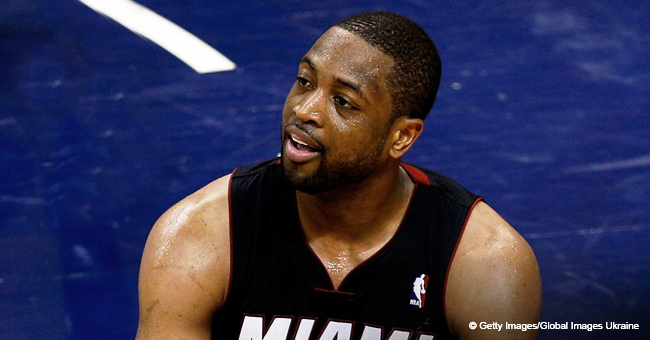 Dwyane Wade Once Detailed His Rough Childhood & How Dad Kept Him from Going down the Wrong Path

Dwyane Wade recently wrapped up a glowing NBA career amidst accolades from various dignitaries, but things could have easily been different were it not for a strict father that kept him from going down the wrong path.
Wade, 37, is not oblivious of his many blessings; he is even more aware of his good fortunes because he knows the story could have been different.
During a 2013 episode of "Oprah's Lifeclass" on the epidemic of fatherless sons, the former Miami Heat star opened up about his father's life-changing impact.
"Early on in my life, I grew up with my mom," Wade began. "My mom was on drugs, and my family was in the gang environment, so it was a rough childhood."
He recalled moving in with his father, Dwyane Wade Sr. at age 9 in a different Chicago neighborhood.
'If I'm looking half as good as you when I'm 62 I've done okay in life.'
"I got an opportunity to be a kid," said Wade. "If I would have stayed [with my Mom], I would have been next in line to sell drugs and to join the gang."
The 13-time NBA All-Star went on to narrate how his father's strict parenting style and interest in sports placed him on a winning path to becoming the basketball icon we all know today:
"Moving in with my dad at the age of 9 was probably the most important part of my life. That was at the point and the age that I needed that male voice. I needed the discipline. I needed someone to look at and say, 'I want to be like you.'"
"[My dad] was militant. He kept us out of a lot of trouble because we respected his 'nos' and 'don'ts' but he also put us in sports. I was able to play basketball and gave myself the joy of 'I want to do this when I grow up.' It gave me dreams that I probably never had before that."
Wade Sr.'s efforts paid off. Today, his son is not only a basketball legend, but he is also a great dad who is doing his best to be there for his kids.
Wade has been married to actress Gabrielle Union since 2014, and they have a five-month-old daughter together, Kaavia. The couple also raises Wade's three sons from two previous relationships and his nephew.
Wade Sr., who is the founder of an organization created to empower fathers, turned 62 in March and got a shout-out from his famous son.
"If I'm looking half as good as you when I'm 62 I've done okay in life," the former athlete wrote alongside a pic of his father and stepmother.
Please fill in your e-mail so we can share with you our top stories!