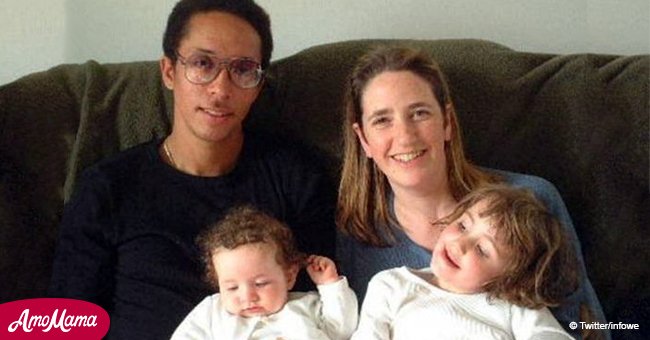 Story of Woman Whose Perfect Husband' Had Another Wife and 13 Kids

Mary Turner Thompson thought she had the perfect marriage until she discovered that her husband had another wife and 13 children from other women.
Her husband, William Allen Jordan, fathered 13 children with six women and had another wife throughout their six-year relationship. Mary recalled how she met him:
"I met William online when I was a single mum with a nine-month old baby," she said. "He was very charming, and we sent emails back and forth before meeting up about two weeks later."
Within two weeks of dating, William proposed to her. She said no at first, but they eventually became engaged. She added:
HE LIED ABOUT BEING INFERTILE
"After six months of being together, I fell pregnant, which was a huge surprise because he told me he was infertile after having mumps as a child. I thought he was going to think I'd had an affair because he was so utterly convinced he couldn't have kids."
They were married for four years, during which he lied about being a CIA agent. He would secretly meet his other women and families on the pretense that he was away on a mission.
Later, he lied that there were people who threatened to kidnap their children. She sold her house, car, life insurance, and other valuables to pay off what he said were blackmailers.
MEETING HIS OTHER WIFE
Mary uncovered his lies in April 2006 after she received a call from a woman who claimed to be his other wife. They met up and talked for 12 hours. Afterward, Mary dumped William via text.
"He tried for months to persuade me, but there was nothing he could say that would ever suck me back in again," she said.
Later, William was arrested on bigamy, illegally possessing a stun gun, and other charges. He was released after two and a half years. And then he started his scheme again – victimizing more women he met online.
Mary documented her experience in her book, "The Bigamist: The True Story Of A Husband's Ultimate Betrayal."
A
similar story
is that of a woman who discovered her husband's bigamy 14 years after his mysterious disappearance.
British-born Peter Rigden disappeared in 2003. Ten years later, his wife discovered that he had illegally married again, thanks to Facebook.
Though the social networking site, she learned that Peter had another wife and a son. Peter was sentenced to six months in prison by a court in his country and was fined for the equivalent of $151 for the crime of bigamy.
Please fill in your e-mail so we can share with you our top stories!