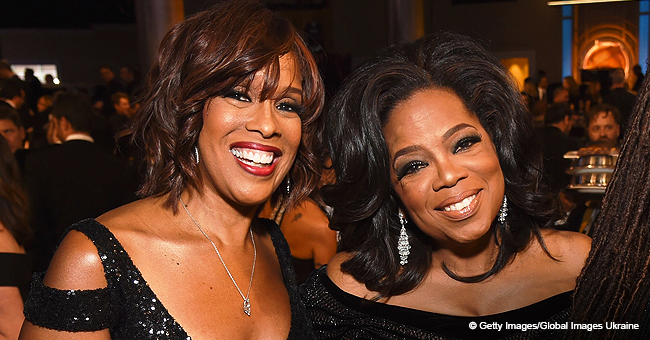 The Advice Oprah Gave Gayle before CBS Contract Negotiations

The advice Oprah Winfrey gave Gayle King when she was negotiating with CBS to double her salary.
Gayle King was facing a complicated and daunting salary negotiation with CBS, but she had some excellent advice from a very special person.
King's best friend, media mogul Oprah Winfrey, motivated the "CBS This Morning" host to ask for a massive raise and settle for nothing less than what she wanted.
GAYLE KING'S MASSIVE RAISE DEMAND
CBS was reeling when their star host Gayle King demanded a massive raise - double her current salary.
KIng, who was earning a respectable $5 million a year, asked for double and got it. What CBS didn't know was that King was being counseled by her billionaire best friend, Oprah Winfrey.
The successful end to the negotiation comes as a relief to CBS insiders who feared the network would lose their star.
OPRAH WINFREY'S ADVICE TO GAYLE KING
Winfrey has revealed that she "pushed" her friend to get what she was worth, especially since TV host George Stephanopoulos recently scored a $15 million deal with ABC.
"I said, 'Get what you want. Get exactly what you want, because now's the time. And if you don't get what you want, then make the next right move,' " said Winfrey.
GAYLE KING'S NEW $11 MILLION DEAL
King has now signed an $11 million-a-year deal with CBS News, and will continue to host "CBS This Morning," but her co-host Norah O'Donnell will be moving, and taking over as anchor of "CBS Evening News."
LOTS OF CHANGES ON CBS' MORNING SHOW
Fans of "CBS This Morning" can look forward to some changes that are geared to make the show even more exciting to watch.
The new morning lineup is set to include "CBS This Morning: Saturday" co-anchor Anthony Mason and CBS News correspondent Tony Dokoupil - as well as Gayle King herself.
The successful end to the negotiation comes as a relief to CBS insiders who feared the network would lose their star.
GAYLE KING'S RISING STAR
Gayle King has had a fabulous year so far. First, she scored the interview of the decade with R.Kelly, and then she was included in Time's list of the 100 most influential people in the world.
King's interview with R.Kelly was a coup, which saw the R&B legend address the accusations against him as he now faces charges on 10 counts of aggravated criminal sexual abuse.
During the interview, Kelly snapped and leaped to his feet, screaming and gesticulating wildly, while King calmly sat and listened to his rant.
It was King's imperturbable professionalism that earned her universal acclaim - and an $11 million contract with CBS.
Please fill in your e-mail so we can share with you our top stories!