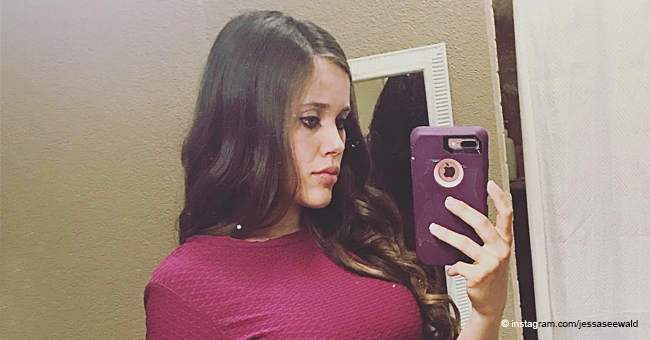 Jessa Duggar's Little Son Kisses Her Baby Bump While the Baby Kicks
Jessa Duggar's son's kiss on her baby bump caused the baby to kick in delight, and the cute moment had fans sharing adorable stories.
Jessa Duggar is an American Personality made famous by her family's reality show — "Counting On," on the TV network "TLC." She married Ben Seewald in 2015, and they have two sons — Spurgeon and Henry with a third child on the way.
Duggar took to Instagram to show off her massive baby bump, and a cute moment between Spurgeon and his soon-to-be sibling. The post — a video showed the reality star lying on a sofa with her sons and husband hovering.
Seewald asked the 3-year-old if he can see the baby kicking around and asked him to kiss it. Spurgeon appeared to be skeptical at first but leaned down to kiss the baby bump, after which his mother announced that the soon-to-be addition to the family kicked.
Henry seemed oblivious to the happenings around him, with his attention on his toys. Duggar wrote alongside the video that the baby responded to "Big brother kisses," and watching her first child anticipate the birth of his new sibling is the sweetest part of the pregnancy.
The 26-year-old added that her two-year-old sometimes pats her belly and say "Baby" because he sees them do it, but it is obvious he does not fully understand what's about to happen.
The TV personality ended the write-up with the reveal that her baby is due in less than a month. Her followers loved the video so much that they shared their pregnancy stories, and they also gushed on how active the baby appeared.
The gender of the baby is unknown, but mother-of-three told "US Magazine" that they hope it's a boy, as they already have a lot of clothes and accessories to hand down. However, if they find out it's a girl, they'll love it even though it will feel like starting anew.
As the Arkansas native is celebrating the new life she's carrying, another reality star from Alaska is expressing her gratitude for the life she has and winning the battle over mental health issues.
Rainy Brown — a teenager stars in her family's reality show "Alaskan Bush People," and she battled depression for two years after her mother got diagnosed with cancer.
The 16-year-old is in a better place now, and she shared a picture of a butterfly perching on her finger on Instagram with a message for it to fly "High above the State on fire." She added the hashtags "#staystrong and #stayhappy."
Duggar's sister, Joy-Anna Forsyth, and sisters-in-law — Anna and Kendra Duggar are also expecting, making diaper change and sleepless nights a certainty in the women's future.
Please fill in your e-mail so we can share with you our top stories!