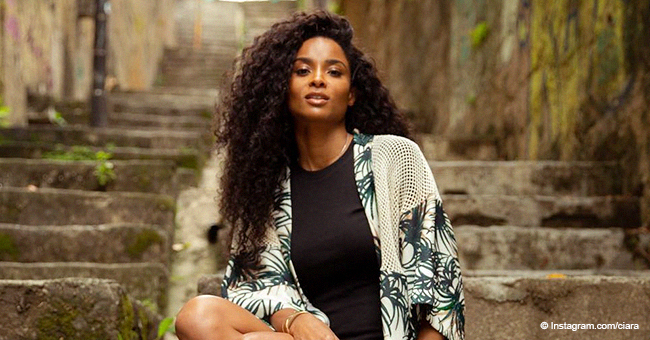 Ciara Tries Her Best to Catch Her Energetic Children While Doing Their Hair

Ciara shared a hilarious video that proves that celebrity parents have just as much trouble getting tots ready for school as regular folks.
Fans of Ciara can hardly imagine the sensual, glam singer as a harried, frazzled mom.
A video clip Ciara shared on social media gives a glimpse into the singer's life as the mother of two young children.
GETTING TWO TOTS READY FOR SCHOOL
In the video, Ciara can be seen running after her daughter and her son as she tries to get them ready for school.
The two run from her as soon as she approaches them with a spray for their hair, and force the singer to chase after them.
SIENNA PRINCESS' HAIR CAPERS
In another video Ciara shared, her two-year-old daughter Sienna Princess can be seen strutting around the house in a long dark wig that reaches to her knees, Sienne definetly has an affinity for hair styling and glamour, just like mom.
"I just can't. Princess Sienna is too much. The Lace ain't ready," Ciara wrote.
MOTHER OF TWO ISN'T ENOUGH FOR CIARA
The 33-year-old singer has revealed that she loves being a mom and wants to have more children with husband Russell Wilson - as many as she can, Ciara confesses.
Singer Ciara is a hands-on mom to her two children, driving them to school, and taking Sienna to dance classes
CIARA'S GREATEST ACHIEVEMENT
Ciara has confided that her greatest joy is in her children and that despite her demanding workload, she is determined to be a hands-on mom to her two toddlers.
Quite a challenge as any working mom can attest, and Ciara is determined to grow her family again very soon.
"I want to have as many kids as I can. My kids keep me young. They keep me active. They give me purpose. They just make it all make sense," Ciara said.
We look forward to more delightful glimpses into the singer's adorable family life.
CIARA'S ADORABLE FAMILY
Singer Ciara is a hands-on mom to her two children, driving them to school, and taking Sienna to dance classes, and Future to his play dates.
Ciara shares 2-year-old Sienna Princess with husband football quarterback Russell Wilson.
Ciara is also the mother to Future Zahir Wilburn, 4, from a previous relationship with rapper Future.
Please fill in your e-mail so we can share with you our top stories!