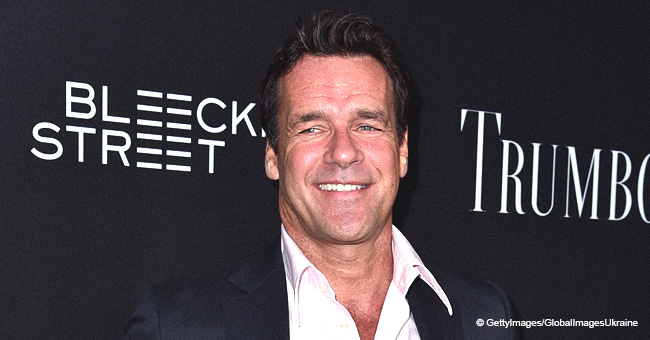 David James Elliott of JAG Returns to NCIS: LA

"JAG" star, David James Elliott is making a grand return on "NCIS: Los Angeles" to help the NCIS team and fans of the show are crying of happiness all over Twitter.
David James Elliott, who first premiered as Captain Harmon "Harm Rabb Jr. on "NCIS: Los Angeles" has returned to the show. Fan's brought to Twitter their sentiments, which is mostly tears of overjoy.
This weekend's episode, "The Guardian," featured Harm assisting the NCIS team with their case involving ISIS supporters aiming at U.S. aircraft carriers. His entrance on the show was accompanied by the original "JAG" theme song playing to get that extra emotional feel, as decided by the show's producers.
Fans were quick to react on Twitter, expressing how they felt over the latest episode. One fan said she was "seriously crying" because of how much she missed Elliott on the show.
Another commended the "fantastic" introduction for Harm, explicitly mentioning the music that played upon his entrance and his "jet landing on the U.S.S. Allegiance."
R. Scott Gimmell, "NCIS: Los Angeles" showrunner and "JAG" vet, shared his thoughts about Harm's reappearance with TVLine in March. He said:
"Bringing Harmon Rabb to work with [the Los Angeles NCIS team] makes for a formidable coalition, and both entities are going to need all the help they can get when confronted with the greatest challenge of their careers."
He continued to share how great it is to work with Elliott again after being with him on the first four seasons of "JAG," and years again later on "NCIS."
He also talked about Catherine Bell, former "JAG" star and current co-star of Elliott on "NCIS," in a statement he made earlier this year.
"Not only is it great to be working together again as friends, but to be able to write for Catherine and have her same character interact with our "NCIS: Los Angeles" characters now, that's wonderfully surreal. It feels like everything has come full circle," Gimmell said.
Please fill in your e-mail so we can share with you our top stories!