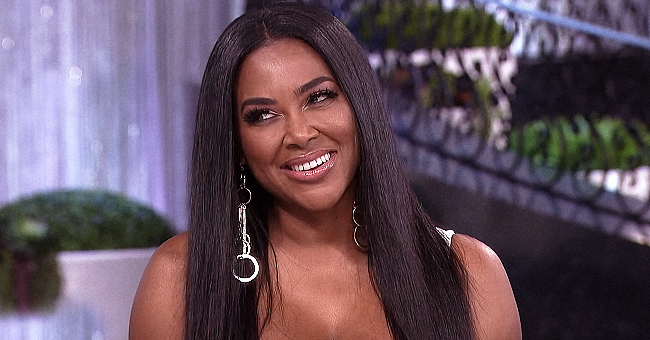 YouTube/The Real Daytime
'I've Waited My Whole Life for This Moment': Kenya Moore Is Happy Mom on New Pic with Baby Daughter
Kenya Moore posted a touching tribute to her baby daughter Brooklyn Daly and motherhood on Instagram.
Reality star Kanya Moore melted hearts with a touching post on Instagram for Mother's Day.
The 47-year-old first-time mom opened her heart and revealed what her daughter Brooklyn Daly means to her.
"The way she lights up when she looks at me...We have an unspoken bond, an unbreakable one. I've waited my whole life for this moment... to be called a mother."
KENYA MOORE'S MOTHER'S DAY VOW
Kenya posted a photo of herself and her adorable six-month-old daughter. Mother and daughter are wearing coronets of roses and sweet pink frills.
The reality star captioned the post with a heartfelt pledge to protect and nurture Brooklyn Daly, and a declaration of her unconditional love.
KENYA MOORE - FIRST TIME MOM
Kenya and her husband Marc Daly welcomed little Brooklyn Doris Daly on November 4, 2018.
The two named their child after the location where they first met - Marc's restaurant in Brooklyn - and Kenya's grandmother who raised her, Doris.
The reality star opened up about how she has difficulty understanding how her mother, Patricia Moore could abandon her as a baby.
KENYA MOORE - UNCONDITIONAL LOVE
Kenya celebrated her first Mother's Day by posting a throwback photo of Brooklyn's first days.
In the photo, Kenya tenderly cradles her tiny newborn, with an expression of absolute bliss on her face.
"You have my unconditional love forever and always. I vow to protect, nurture, and encourage you to always be your best self," Kenya wrote.
MORE BABIES IN THE CARDS FOR KENYA MOORE?
Kenya has confessed that she wants to have more babies and is working at convincing her huaband to grow their little family.
Kenya, who conceived Brooklyn through IVF, has revealed that she has embryos "banked" and that another child is definetly in the cards before too long.
BROOKLYN DAILY MAKES TV DEBUT
Kenya Moore's baby girl, Brooklyn Doris Daly, made her television debut on "The Real Daytime" on May 10, 2019, in a celebratory episode in anticipation of Mother's Day.
Kenya revealed that she planned to celebrate Mother's Day with her adorable baby and her husband, Marc Daly.
The reality star opened up about how she has difficulty understanding how her mother, Patricia Moore could abandon her as a baby.
"Being a mother and looking into my daughter's eyes and just seeing how much she needs me and how much she loves me, I can't imagine treating a child a certain way just because they are born. I can never do that to my own daughter. I just want to protect her. It's even more difficult for me to understand."
Kenya was raised by her grandmother, Doris, after whom she named her own baby girl.
Please fill in your e-mail so we can share with you our top stories!