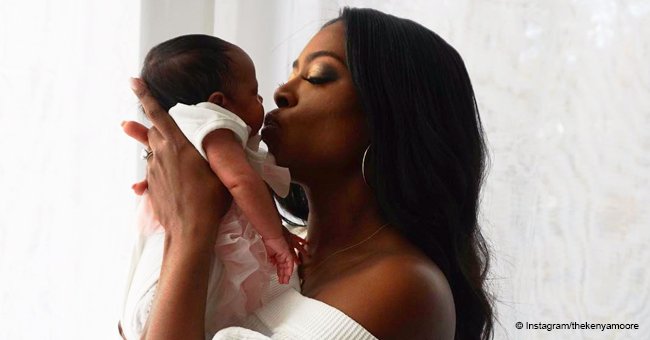 Kenya Moore melts hearts with picture of her kissing her 6-week-old daughter, Brooklyn Daly

Kenya Moore shares a new photo with her baby on her 6th week after debuting her face to the world recently.
Now that Kenya Moore has shared the first full-face photo of her brand new daughter, she's been sharing more images of her and delighting fans to no end. The latest photo is an extension of her debut pic and it's just as lovely.
BROOKLYN'S FIRST FULL-FACE PHOTO
Kenya surprised the world last week when she finally revealed the face of her daughter Brooklyn in an exclusive People photo. Mother and daughter are featured in the magazine's new issue and Kenya used an image from their photo shoot to debut her baby's face on her Instagram.
"MEET the love of my life @brooklyndorisdaly," the proud mom wrote to accompany the pic where she and her daughter matched in white outfits. The photo was taken in the bedroom with little Brooklyn lying on the bed as her mother leaned next to her.
Kenya invited her fans to "read our exclusive @people article on stands today" as part of her caption.
A BRAND NEW PHOTO OF MOTHER AND DAUGHTER
Less than a week later, Kenya showcased another photo from the shoot. This time, she's standing and holding her baby close to her face as she attempts to kiss her. She's wearing the same white blouse in the first photo with a bare shoulder exposed. Kenya used the lovely image to mark Brooklyn's 6 weeks of life and shared a message of hope and love for her.
"May God bless you and may all your heart's desires come true. I never gave up, kept praying and believing in God's plan for my life. Stay prayerful He has your back. #babybrooklyn #love #faith #family #godspeed #pray"
MIRACLE BABY
Kenya welcomed Brooklyn amid the threat of pre-eclampsia that forced her to deliver two weeks ahead of her due date. She considers her a miracle baby since she was conceived through IVF after the 47-year-old suffered fertility issues. This is probably the reason why she's very protective of her, opting to delay sharing her first photo.
KENYA CLAPS BACK
Speaking of her daughter's first photo, Kenya recently slammed rumors that she was paid a measly $6,000 for it.
"$6k? Hmmm my baby doesn't get out of bed for less than $1M. Cut it out!" she wrote on her Instagram story in response.
Kenya certainly can afford to demand a higher price for her only daughter. She's waited too long for her for people to devalue her. Here's looking forward to more $1M photos she intends to share.
Please fill in your e-mail so we can share with you our top stories!