Kenya Moore slams claims that she accepted only $6K to publish photos of her newborn daughter
Kenya Moore, best known for "Real Housewives of Atlanta" took to Instagram to post a brief clip addressing the rumors that state she got $6,000 for her baby's first pics.
On November 4, Kenya and her husband, Marc Daly, welcomed their first child, daughter Brooklyn Doris Daly, to the world. A couple of weeks later, the proud mother uploaded the first photo of herself holding Brooklyn in social media.
For the caption, Kenya wrote "Thank God for my miracle baby, my husband and my life. When you have faith in Him all things are possible. Happy Thanksgiving from the Dalys"
$6,000 FOR THE PHOTOS
While the image was lovely, several people created the rumors that she couldn't convince any magazine to buy the first photo of her daughter, so Kenya was paid only $6,000 for the images she shared.
However, the "RHOA" star posted a clip in her Instagram story that shut down that allegation. "$6k? Hmmm My baby doesn't get out of bed for less than $1M. Cut it out!" Even though she didn't say it, her message suggests that she was actually paid $1 million.
So far, Kenya has posted only three photos of the baby on Instagram. Apart from the previously mentioned, the celebrity uploaded one showing the Brooklyn's tiny hand resting on her mothers with the caption "Happy Sunday" and "Miracle Baby" in hashtags.
The most recent one portrayed only Brooklyn's feet, which Kenya described as a "whole snack." People can't wait for the baby's face to be finally shown to the public, though some of them believe that will happen during the "RHOA" reunion.
KENYA'S ABS
It is not the first time that Kenya has made headlines. Three weeks after giving birth, the celebrity uploaded a slideshow on Instagram showing off her post-pregnancy body and abs.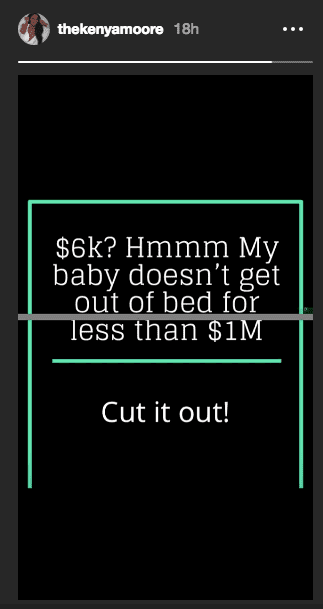 The proud mother appeared wearing grey and white leggings and a blue sports bra while flashing her beautiful smile at the camera. Since her belly was in full display, her marked abs were the highlight of the post.
"I still can't work out yet but I feel much better. I was cut twice during my 3 hr Csection but I made it! I've always been healthy and worked out my entire life...whatever my body will do I'm not rushing it. It feels good to start to feel myself again [sic]" wrote Kenya.