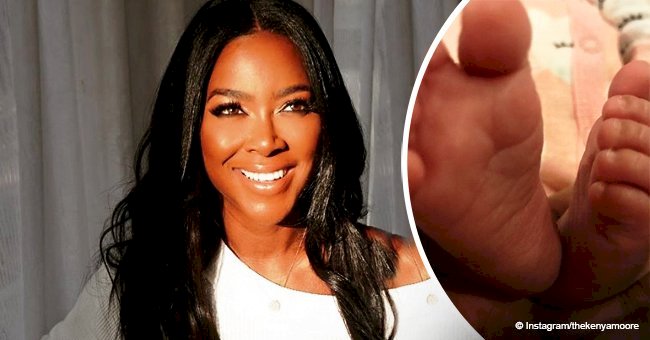 Kenya Moore melts hearts with recent picture of her baby daughter Brooklyn Daly
Kenya Moore teases fans with another glimpse of her miracle baby and it's causing quite an uproar.
It's been almost a month since Kenya Moore gave birth but the reality star has yet to share a full image of her baby. In the meantime, fans have been delighting in glimpses of her daughter she and her husband Marc Daly named Brooklyn Doris. Her latest photo is driving her followers crazy.
THE FIRST FEW GLIMPSES OF KENYA'S BABY
Since the birth of Brooklyn, Kenya has been basking in motherhood bliss. In between caring for her child, she shares images celebrating her joy and updating fans about her progress as a mother.
The first glimpse of her baby was posted on November 12. A lovely picture of Brooklyn's tiny hand resting on her mother's hand was simply captioned with the hashtags "#HappySunday," "#babydaly," "#miraclebaby," and "#fairytalesdocometrue."
The second glimpse was on Thanksgiving. She shared a photo of herself cuddling her little one dressed in a white onesie. Brooklyn lay on her mother's chest with her head concealed by Kenya's protective hand. Gratefully, Kenya wrote,
"Thank God for my miracle baby, my husband and my life. When you have faith in Him all things are possible. Happy Thanksgiving from the Dalys."
AN IMPRESSIVE SNAPBACK FIGURE
Kenya is also proud of her post-pregnancy body, sharing photos of her snapback figure. Last week, she impressed with an already flat tummy wearing a bra top and sweatpants. Her bare belly showed no sign of pregnancy which resulted in a caesarian section delivery.
"The SnapBack is real!," the former "Real Housewives of Atlanta" star wrote.
"I still can't work out yet but I feel much better. I was cut twice during my 3 hr Csection but I made it! I've always been healthy and worked out my entire life…whatever my body will do I'm not rushing it. It feels good to start to feel myself again."
"#brooklyndaly is worth every battlescar!," she adds.
BROOKLYN'S TINY FEET
More recently, Kenya delighted fans with another glimpse of her baby. This time, the adorable snap featured Brooklyn's tiny feet which she also describes as a "whole snack."
Fans couldn't help but swoon over the new pic despite it only being a teaser. Others though paid more attention to the suspense Kenya seems to be drawing and mocked her for it. One fan in particular wrote,
"The puzzle of Doris will be complete by the RHOA reunion! They need to keep these angels off social media and let their spirit rest. I bet the baby's face will come out during reunion time."
Let's hope it won't take that long for Kenya to reveal the face of her child. But when she does, we're certain it will be worth the wait.
Please fill in your e-mail so we can share with you our top stories!