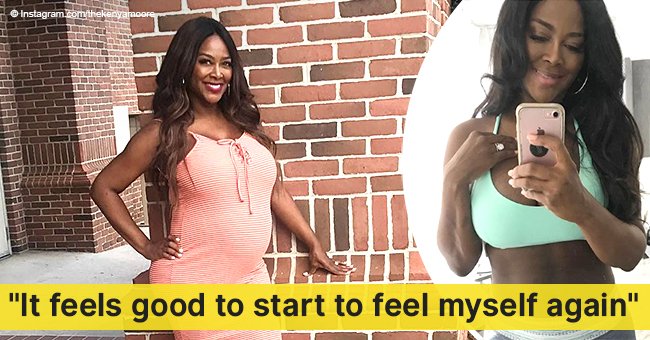 Kenya Moore shows off her post-pregnancy body & abs just 3 weeks after giving birth
Kenya Moore, best known for "Real Housewives of Atlanta," took to Instagram to show off her post-pregnancy body only three weeks after giving birth via C-section.
In the first image of the slideshow, Kenya appeared wearing grey and white leggings and a blue sports bra while flashing her beautiful smile at the camera. That photo was very similar to the second one, which proved that her legs looked strong.
The third picture, however, was the highlight of the post as the body of the "RHOA" star was facing the camera, giving a glimpse at her abs. In the caption, the 47-year-old lady set clear that it had been only three weeks after she gave birth to Brooklyn Daly.
"I still can't work out yet but I feel much better. I was cut twice during my 3 hr Csection but I made it! I've always been healthy and worked out my entire life...whatever my body will do I'm not rushing it. It feels good to start to feel myself again [sic]" wrote Kenya.
PEOPLE'S REACTION
As soon as she uploaded that slideshow, her followers took to the comment section to share their thoughts.
"Omg! How did you do this???? Really? You look amazing Kenya. Seriously how [did] you get back in shape so quickly? [sic]" asked one user.
"Girl You Not Playing!!! Better than A 20 year old. Who's 47??? [sic]" wrote another one.
"Major snapback. Honey you look amazing," pointed out a third user.
BROOKLYN'S FIRST PIC
Kenya shared those photos soon after she uploaded the first picture showing her holding Brooklyn. In the image, Kenya posed gently hugging the baby close to her chest. The newborn was wearing a white onesie with little black details all over it. One of the aspects that most people noticed was that Kenya was covering her face.
For the caption, the "RHOA" star thanked God for her "miracle baby," her husband, and her life. She added that when people have faith in God all things were possible. Finally, Kenya wished her followers a happy Thanksgiving.
"The third picture was the highlight of the post as the body of the "RHOA" star was facing the camera, giving a glimpse at her abs."
THE DALYS
Kenya and her husband, Marc Daly, welcomed to the world their first daughter on November 4. She became a mother at 47 years of age after getting pregnant via In Vitro Fertilization (IVF). Earlier this month, she uploaded a photo of Marc while in the delivery room and, in the caption, she confessed to being grateful.
"It all started with you... If I had not met my king I would not have become a mother to the most beautiful baby I have ever seen I am so thankful for you. You two are my whole world. I love you Mr. Daly---Mrs. Daly," wrote Kenya.
Please fill in your e-mail so we can share with you our top stories!