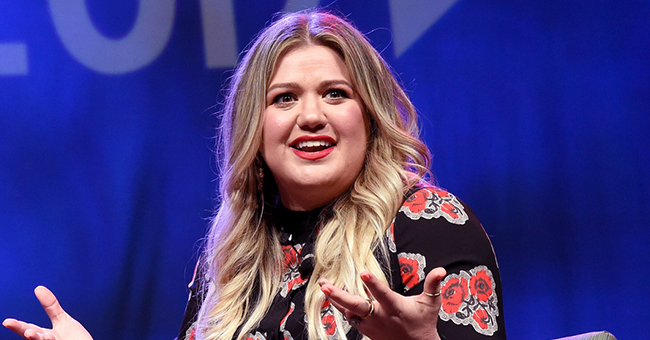 Getty Images
Kelly Clarkson Loses the Respect of Fans after Her 'Unpatriotic' Critique of 'God Bless the USA'

Kelly Clarkson and John Legend received backlash for feedback they gave to one contestant on "The Voice" who sang a very patriotic song. "John Legend hates America," one person said.
Apparently, there's no room for error when someone sings a song like "God Bless the U.S.A." At least, that's what some former fans of Clarkson and Legend would have people believe.
The two judges mildly critiqued contestant's Gyth Rigdon's rendition of the Lee Greenwood song on Monday night, but they got a lot of heat for it. Rigdon's performance is found below.
Clarkson somewhat anticipated the negative response she would get before giving Rigdon feedback. "I feel like you can't critique this song or you're like going to hell or something," she said.
She went on:
"I will say, this was not my favorite vocal of you this season because I think you are a ridiculously talented vocalist. This song is a lot of sustained notes. It's all heart — it's all of us singing together usually in a big crowd."
She repeated that the song wasn't her favorite but at the same time commended Rigdon for picking it. She acknowledged that it meant something to him and noted that it was never performed on the show before.
Co-judge John Legend reflected similar sentiments. After joking about Rigdon's choice to sing the song on the day we celebrated the British invasion, he stated:
"We appreciate you, Gyth. I agree with Kelly that this wasn't your greatest vocal performance, but it was very strong and I felt the energy and the emotion. It was a powerful rendition. Great job."
With that, ex-fans could not hold back their disdain. One person accused Clarkson and Legend of hating America "so much that [they] couldn't recognize Gyth's song as a great rendition."
Another person spoke for themselves as well as some veterans:
"I've lost all respect for @kelly_clarkson & @johnlegend when they made fun of the beautiful, most Patriotic song, showing the love of country that @GythRigdon sang beautifully. I had 4 Veterans here that heard them say those things & R shocked #TheVoice allowed them 2."
One person focused mostly on Legend before accusing both judges of being scared. Rigdon is part of Blake Shelton's team on the show.
"John Legend hates America, that's a fact. Not sure where Kelly stands. Think they are just scared that Gyth was amazing and Blake is blowing them away!" the person said.
As for Shelton, he went in the complete opposite direction with his feedback on Rigdon's performance. "Very clearly, we have all put on our competitive jackets today," he began.
He continued:
"I'm gonna say that that was far and away your best vocal performance I've heard this whole season. The song clearly means something to you as it does a lot of people. I love that performance. I love that you chose that song. Welcome to the finale, brother."
However, many people agreed with Legend and Clarkson's comments, disagreeing with those who claimed the two made fun of or criticized the song itself.
"Singing God bless America is fantastic but being critical and saying it wasn't his best performance is no way disrespectful to the USA!"
Last week, Clarkson and Legend teamed up for a different reason, one that related to their kids. In an interview with ET, Clarkson brought up her three-year-old son Remington Alexander and Legend's daughter, Luna Simone Stephens, who is also three.
The singer said that she'd want her little boy to marry Luna because "they would make the most beautiful babies." She pointed to their "skin tones, [and] their eye color."
Clarkson figured that the Legend family probably thinks she's weird but pointed to the kids' shared experience of growing up in the spotlight as a fairly reasonable way that they could connect in the future.
Although this time they were split, back in December, all four judges were in agreement for one performance from a remarkable teenager. When Kennedy Holmes sang Adele's "Turning Tables," they all turned around and requested to be picked as her coach.
Please fill in your e-mail so we can share with you our top stories!