George Strait's Only Son Bubba Is All Grown up and Carrying on the Family Legacy
George Harvey Strait Jr., also known as "Bubba," is following in the footsteps of his widely adored father.
Bubba, born on May 14, 1981, has grown into a handsome man, who also happens to be musically gifted like his father, George Strait.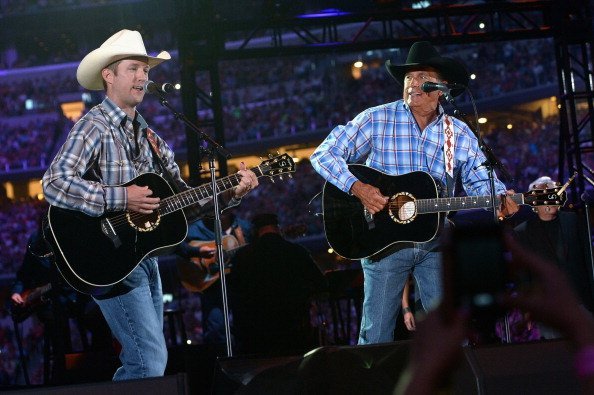 "It's the greatest feeling in the world to watch my son win a roping, or even to just watch him compete."
A video uploaded on YouTube shows the father-and-son duo performing on stage in Arlington, Texas.  
When he was only 11 years old, Bubba lent his voice to his father's song "Heartland."
They continued to collaborate in the years that followed. Together with famous songwriter, Dean Dillion, Bubba and his father worked together on several songs.
Since 2009, Bubba has written or co-written almost 30 songs on his father's albums. Bubba is the second child of the country music superstar.
His elder sister, Jennifer, passed away in an accident when she was just a teenager.
MUSIC RUNS IN THEIR BLOOD
The senior Strait has also passed on his musical gene down to his grandson. Bubba's son has appeared in his grandfather's song, "God and Country Music" from his latest "Honky Tonk Time Machine."
Bubba, who grew up in Texas, attended college at Texas A&M.
Aside from being musically talented, Bubba is also into bull-riding. He joined the PRCA as a team roper.
He shares this passion with his father. George Strait, in one interview, said:
"It's the greatest feeling in the world to watch my son win a roping, or even to just watch him compete. I'm sure I'm way more nervous than he is when I'm just watching. Bubba and I have been fortunate to win a couple of buckles together, and that, my friends, is the ultimate."
A SUCCESSFUL CLAN
George's clan is truly blessed. A cousin of his is also one of the most successful businessmen in the world. The country singer is related to Jeff Bezos, the founder, CEO, and chairman of Amazon. Bezos and Strait are maternal cousins. The duo is related through Mattie Louise Gise, who is Bezos' grandmother.
The business tycoon was born in Albuquerque in New Mexico, and in his early years, he and his family relocated to Houston.