Trey Songz Announces He's a Dad with Photo of His Baby Boy
Trey Songz is finally a dad! The singer shocked fans with the happy news on Instagram a few hours ago, showing off the little one's face and revealing his adorable name.
Congratulations are in order for Trey, whose longtime dream of having kids just came to pass.
It started earlier on Thursday when the "Slow Motion" crooner teased fans with an Instagram photo of someone holding a baby's foot. He captioned it with a blue heart emoji, leading many to assume that he had welcomed a baby boy.
'I remember when he was a child. I used to burp him, change his diapers, now he got a baby.'
While fellow celebrities like Kehlani, Kevin Hart, and ex-girlfriend Lori Harvey congratulated Trey on his new bundle of joy, other users opined that the baby in the picture was Trey's nephew and that he was only trying to stir conversation.
Hours later, however, Trey put an end to the speculations by sharing a full baby picture of the little guy in a blue-and-white bear-patterned onesie and announced:
"My son Noah. We are blessed and overjoyed. Peace."
The "Bottoms Up" singer did not offer any information about his son's mother; he was last romantically linked with Steve Harvey's stepdaughter Lori, but the pair reportedly split in February.
While the baby news came as a shock to many (including rapper 50 Cent who commented: "What you talking 'bout Willis"), Trey has always wanted to be a dad.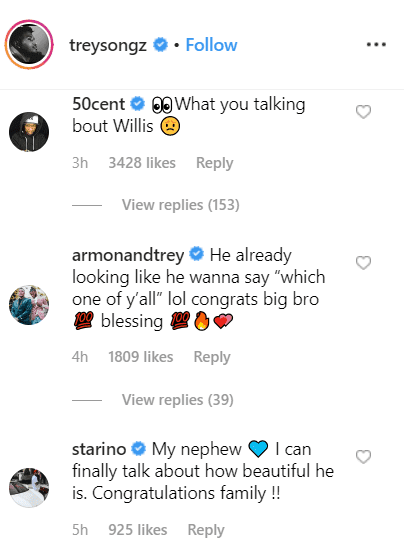 "I want kids. I've been wanting children before you could even imagine," he said during a 2015 appearance on The Breakfast Club, according to PEOPLE.  
The 34-year-old singer (birth name Tremaine Aldon Neverson) continued:
"I raised all the kids in my family. My younger brother, he's 20-years-old, he just had his first child. I remember when he was a child. I used to burp him, change his diapers, now he got a baby."
Trey also added that he wasn't in a rush to do it and would only have a baby after making sure "that it's the right decision."
Now that the time is finally here, Trey is probably over the moon with baby Noah in his life. Fellow celebrities are sharing in his joy as well, including singer/actor Tank who said: "Welcome to the fold, my brother. Blessings on blessings."