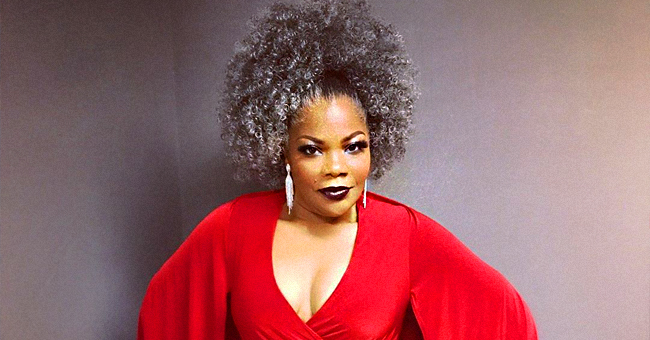 Instagram/therealmoworldwide/
Mo'Nique Flaunts Her Snatched Waist in Red Jumpsuit After Weight Loss (Photo)
Mo'Nique flaunted her slim figure in recent pics shared to Instagram, a year after sharing a huge milestone in her weight loss journey. The comedian is currently in the middle of her Las Vegas residency, and she's using her voice to empower black women in and out of the entertainment industry.
Mo'Nique looks stunning in one of her recent Instagram pics, as she shows off her snatched waist and slim figure: the product of her years' long journey to shed some extra pounds and embrace a healthier lifestyle.
The 51-year-old earned her followers' praise by rocking a red jumpsuit with a plunging neckline that hugged her curves and enhanced her hourglass figure. She completed the look with a pair of dangling earrings, and her gray curly hair styled in a voluminous Afro.
"Be your own superhero!!!! WWhat would you name her!!! Sisters don't ever stop Believing in You!!! Love y'all 2 Life! See you in Vegas. Mo'Nique does Vegas@SLS Hotel," she captioned the post.
AN INSPIRATION TO FANS
Fans of the "Precious" star were quick to fill her comment section gushing about her beauty and calling her an inspiration.
"When you stand up for what you believe in, and you let it just rest and sit there. This is the result," one user wrote.
Another raved:
"I just watched phat girls the other day & it reminded me of how motivating and empowering you are.! That movie is so underrated. It helps me being a bigger woman with low self-esteem. You are a queen."
And a third one agreed, "Wow, auntie, you look awesome. You are such an inspiring woman. I love the hair."
SPEAKING UP ABOUT EQUALITY
Mo'Nique recently claimed the title as the first black female comedian to have her own residency in Las Vegas, Nevada, where she's currently performing at the SLS Hotel.
And although she's proud of the accomplishment, Mo'Nique has been using her voice to raise awareness about the gender and racial inequality in and out of Hollywood.
"If you know the history of a place called Hollywood when it comes to women of color, we've always been at the bottom."
Not one to bite her tongue, Mo'Nique called her fans to boycott Netflix last year after the streaming service offered her a $500,000 deal to do a comedy special. She argued that fellow comedians Amy Schumer, Chris Rock, and David Chappelle got multi-million dollar contracts, and believed she deserved the same.
"If I accepted $500,000, what does Tiffany Haddish have coming? If I accept that, what does the black female comedian have coming? Because what they'll say is, 'Mo'Nique accepted this, and she's got that.' So what do they have coming?" she explained to her fans.
In a recent interview with Yahoo Finances, Mo'Nique reaffirmed her position on the topic, explaining that gender and racial inequality are not a novelty, and claiming that people have been aware of the problem for years, but until more black women raise their voice about it, little will change.
"What's happening is not fair, and we got to raise our hands and speak on it," she said. "If you know the history of a place called Hollywood when it comes to women of color, we've always been at the bottom."
Mo'Nique admits that she's not the only one talking about these issues, and recalled how there had been moments in history where "you'll hear the uproar, and then it'll die down."
"Well right now we gotta stop letting it die down," she stated. And continued:
"What I'm saying it's not something that we can't see, that we're blinded about. We see it in our everyday walk. I just happen to be speaking about it in a place called Hollywood. So, we know what's happening, we just got to keep being unafraid to say it."
Despite the critics she has received for voicing her opinions, Mo'Nique continues being unapologetic about her actions, as she hopes to inspire more women to embrace their truth and share it with the world.
Please fill in your e-mail so we can share with you our top stories!