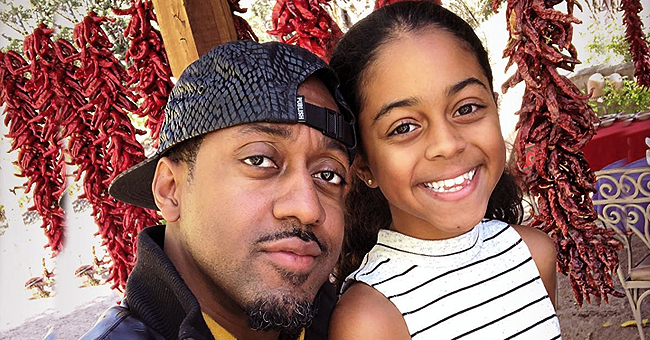 Instagram/jaleelwhite
Jaleel White Shares Sweet Tribute for Daughter's School Open House (Photos)
Jaleel White, better known as the quirky Steve Urkel on "Family Matters," is now the proud father of a 10-year-old smart girl. The actor recently attended daughter Samaya's open house day at school, and he couldn't stop gushing about her abilities.
Samaya White will be passing to the fifth grade this year, and she's making her dad proud with her love for school and her self-confidence.
White recently attended Samaya's school open house day for parents, and unlike other kids, she was willing to welcome him with open arms as he talked with her teachers.
Jaleel was amazed at his daughter's confidence, and couldn't stop gushing about it on an Instagram post that featured several pics of their day together, alongside some of the girls' friends.
"Cannot fully express how proud I am of this little girl and her ability to adapt," he started the caption of the post. And continued:
"I used to fear open house because I knew my a*s had cut up in class plenty (my grades were good tho), but I wanted no parts of that class visit for my mom to ask, 'So how has he been?' the anxiety was real for me. This one, on the other hand, is texting me from the other room, 'Daddy, are you ready? I'd like to be on time.' To have a child with natural instincts for accountability and inclusivity is a blessing beyond good measure #4thGrade #Inthebag Let's Goooooo #5thGrade."
REACTIONS TO THE POST
Fans of the '90s child star couldn't help but fill his comment section to congratulate him on having such a beautiful and talented daughter.
"Seems you're doing a wonderful job with her, although I'm sure she makes it easy. You have every right to be proud," one user pointed out.
Another agreed, "Allll in the parenting! Good job, my friend!"
And a third one also praised Samaya writing: "A beautiful girl inside and out. Keep up the good work, Dad!"
WHITE'S MESSY RELATIONSHIP WITH SAMAYA'S MOM
Samaya is Jaleel's only child from his failed relationship to Bridget Hardy, whom he dated for three years.
In 2012, when Jaleel made his debut as a dancer on "Dancing with the Stars," Hardy publicly accused him of domestic violence, claiming that the star had verbally and physically abused her in 2010.
She alleged that White hit her "across the chest area" and "pushed her into the toilet," causing it to break.
White denied the allegations, claiming that it was just a ploy from his ex to get more money from him amid his newfound success in the entertainment industry.
"I've never been arrested in my life. I have no history of violence. I've never even had a cop show up to my home," he told Entertainment Tonight at the time. And continued:
"And the ploy is, 'Alright, I know he doesn't want trouble so he'll pay more.' And a dollar amount was pushed across the table and child support, monthly child support. 'Pay this, and everything goes away.'"
Jaleel also noted in another interview that his priority was Samaya's wellbeing, saying:
"My only hope is that when my daughter Googles her parents one day in her future, she sees that her father acted with class and dignity when pressed to the fire."
FAMILY MATTERS
Although White and Hardy's legal battle was messy, it seems like they have settled a co-parenting agreement, since Samaya looks happy and she spends a lot of time with her dad these days.
They go on ice-cream dates with friends, sports events, concerts, and Samaya even visits Jaleel on his filming sets.
White credited the girl for helping him to keep acting, even when he wanted to quit. "She made it easy to accept the challenge," he said. "On days when you don't feel like doing certain things, she makes it easy to do because I do it for her."
And will Samaya follow his steps in the acting industry?
"I am going to hold off on that because I know how the business works," Jaleel told Reader's Digest. Adding:
"I would like to think that daddy went through that child actor hazing for both of us. But, if she does get the acting bug, I will make sure that she gets proper instruction from someone else other than me, someone who she will actually listen to, and we will take it from there."
Either way, with Samaya's good grades and attitude, she already has a bright future in whatever field she decides to pursue.
Please fill in your e-mail so we can share with you our top stories!