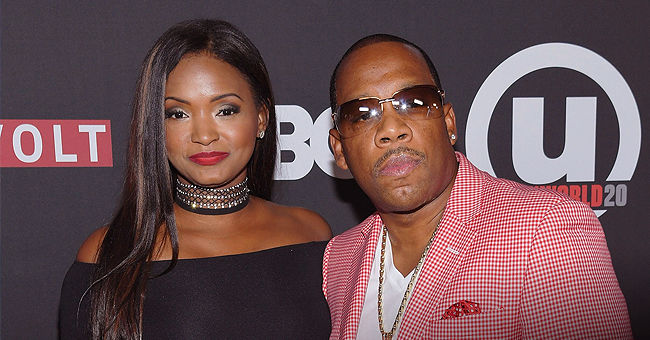 Getty images
Mike Bivins' Wife Shared Photos from Daughter's Cinco De Mayo 1st Birthday Party

Mike Bivins is a proud dad of four beautiful girls who is growing up right before our eyes. The 50-year-old R&B legend and his wife of 13 years, Teasha Bivins recently threw a huge birthday party for their youngest daughter Sanaa.
The cute little girl just turned one, and her parents made sure it was a day to be remembered. Teasha Bivins revealed that they celebrated the little girl's first birthday for a whole week in her caption of one of the photos of the party that she posted on her Instagram page.
She wrote:
"My baby turned one last Friday, and we've celebrated all week. Family & Friends came from near & far #BivFam."
She also shared more pictures and videos of Sanaa who looked adorable and happy as she rocked a pretty pink dress. She also had a pink crown on her head to match the dress.
After seeing the beautiful pictures and videos, his wife, Mike, got jealous and decided to make a joke in the comments.
"Why my pic doesn't look as good as you two haaaaa Nie Nie so sweet and pretty awwww," wrote the jealous father.
Just a year and a few months back, Mike revealed the pregnancy and birth of Sanaa on his Instagram page.
"The Blessing is on the way," Mike told his social media followers, and few weeks later he wrote "Big sistas… God bless" to celebrate the arrival of thei latest family member.
Mike has always taken every opportunity to show that he is a family man. He also seeks to social media to show off his wife and four daughters whom he refers to as his "Lil Supremes." He once explained his perspective on the difference between a father and daddy.
"To me, there is a difference between a father and daddy," he said. "This is my perspective on daddies and fathers. Your kids call you Daddy because of the time you spend with them and the love you share with words and moments in the same house. Fathers sometimes don't live in the house and come around every now and again. When some kids introduce their dads, they say 'That's my father. My kids say, "That's my daddy."
After spending a lot of years in the music industry, it's safe to say that Mike is loaded with cash from his productive career. His net worth is presently put at $40 million and could likely increase if his works continue to be more productive by impressing the world.
Please fill in your e-mail so we can share with you our top stories!