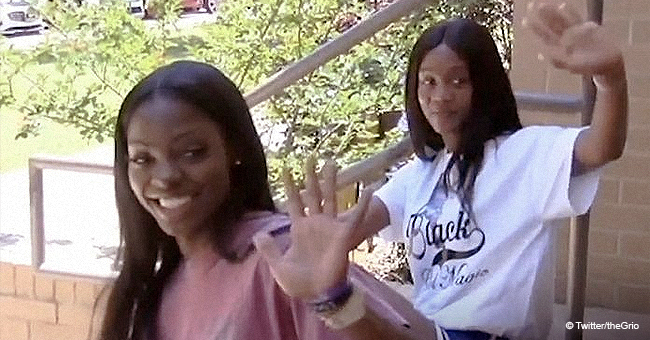 Two Arkansas Teens Make School History as First Black Female Valedictorian & Salutatorian
Two African-American female students in an Arkansas school district made history by graduating at the top of their class. The way they achieved this is very inspiring.
The famous saying "Black Girl Magic" defines the achievements of two young African-American high school graduates.
WHO ARE THEY?
Alexis Peterson and Taykeetria Rogers recently obtained their high school diplomas from their Junction City School District in Arkansas, but that's not the big news. The two young ladies made history for being the first black women to graduate at the top of their class in the district's history and serve as valedictorian and salutatorian, respectively.
Their principal, Kay Mason, told "KTVE" — the local TV station — that it is the first time the school has African-Americans as valedictorian and salutatorian, and they were proud of the girls.
HOW DID THEY ACHIEVE THIS?
Rogers speaking at their local TV station said they — referring to herself and Peterson — felt they should not be graduating, but it's something they've managed to do.
The young lady was not only a scholar but was involved in a lot of extracurricular activities, including basketball. She played so well that she tore her anterior cruciate ligament twice.
When asked how she was able to focus on her books while doing so much, the salutatorian responded that she focused on one thing at a time, until she accomplished it. Peterson's story, on the other hand, is not very different from that of her friend — they've known each other since kindergarten.
She also attributed focus and taking things a day at a time as the reason she was able to juggle school, community work, church, and family commitments.
The valedictorian had a 4.0 GPA throughout her high school education, and she told the news outlet that it felt good to be the first two black females to graduate top of their class, and in the entire district.
WHAT THE FUTURE HOLDS FOR THEM
The teenagers are confident that they would not have made it without the support of their family, community, and God, and thePeterson's advice to their graduating class is
"Never try to change yourself; always strive to be a better you."
When the school year starts in the fall, Rogers will resume at Louisiana Tech, while Peterson will begin at Northwestern University. Earlier this month, an African-American male student in Houston, Texas, also broke a 119-year-old record at his high school when he became the first black valedictorian.
Rogers and Peterson might not have known they would one day make history, but the history books of their school district will forever remember them.
Please fill in your e-mail so we can share with you our top stories!