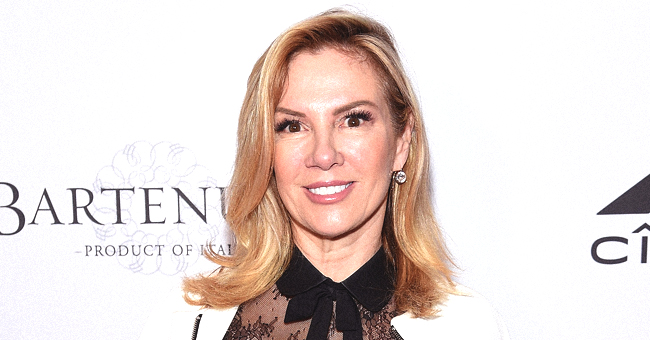 Getty images.
Ramona Singer Opens up about Her Abusive Father and Being Left out of His Will

The reality TV star was triggered by a visit to her hometown to have dinner with her friends and co-stars on a recent episode of "Real Housewives of New York City," and she recalled a horrifying time of her life.
During the May 22 episode of "Real Housewives of New York City" (RHONY) 62-year-old Ramona Singer opened up about her late abuser father, what he did to her mother and how she felt about him leaving nothing in his will for her.
The Ageless by Ramona founder visited upstate New York to stop by Luann de Lesseps home along with fellow cast members Bethenny Frankel and Dorinda Medley, who lives in Kingston, and the three had dinner in Singer's hometown, Rhinebeck.
BACK AT HER HOMETOWN
While she has her share of good memories of the town where she grew up, the memories of her abusive husband and the turbulent relationship he had with him came back to haunt her, and she used the opportunity to share her feelings.
"This is the town that I grew up in. My home is only five miles from here. I don't even remember the last time I came up here. … Yes, there's some good memories. But there's a lot of bad. … Everything is rushing back," she said.
"I had no love from my father. No love, zero love. He ignored me."
The Beekman Arms and Delamater Inn, where the group was dining, was the place where Singer and her family used to go on special occasions, making it all come back even more intensely for her.
"Oh my God, this is so weird. I am freaking out. I would have dinner here every year with my family. They only have one table for six, this was it," she shared.
BAD MEMORIES
Singer's father Bohdan Mazur passed away in 2009, after a life of abuses against his wife that ended up estranging Singer from him for most of her adult life, with the two only reconciling weeks before his death.
"It was really a horrible situation. It was like a war zone. I didn't know what I was coming home to. Dishes flying, screaming, yelling. We'd hide under the covers as kids," she recalled.
"My family life on the outside looked very normal. But there's a lot of darkness going on in the inside. I had no love from my father. No love, zero love. He ignored me," Singer revealed.
AFTER HER FATHER DIED
But even when she made an effort to spend at least a little "quality time" with her father before his passing, he found a way to hurt her even after he left his physical body.
"Really, it hurt me when I read the will. It actually said — I cry — it said, 'And to my daughter, Ramona Mazur Singer, I bequeath nothing.' And I just got hysterical," she said, barely holding her tears back.
"When I read that I was on my knees. I was broken. I was already upset that he died, we had reconciled. And then to see that in writing? I fell to my knees in tears," she added.
THE SUPPORT OF HER CO-STARS
Both Medley and Frankel listened and supported their friend as she revisited her troubled memories, and they praised her for opening up in such a way.
"This is the first time Ramona has ever discussed her past, women to women, what she's been through, in and of itself," said Frankel.
A GRUESOME EPISODE
Back in 2015, Singer released a memoir titled "Life on the Ramona Coaster," where she elaborated on growing up in a violent and abusive home.
In the book, she revisited a time when he prompted her to grab a knife and pointed it at her father to stop him from bullying both her mother and herself as her mother was making dinner.
"Something he says, I can't recall what, hits a nerve. I snap. My life flashes before my eyes… I know exactly what I am looking for, the biggest knife with the longest and thickest blade," Singer wrote.
"I pull the largest butcher knife out of the drawer and focus on the sharp blade as it slices through the head of lettuce in front of me," she continued.
"Then, without hesitation, I lunge toward him, point the sharp blade directly at his face and scream, 'Stop it. Stop it right now!' My eyes grow wild. 'Stop it right now or I swear I will take this knife and shove it into your neck,'" Singer concluded.
Please fill in your e-mail so we can share with you our top stories!