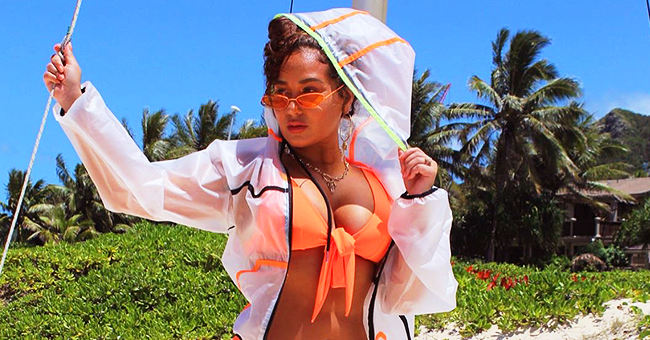 Instagram/adriennebailon
Adrienne Houghton Flaunts Fuller Curves in New Beach Photos after Gaining 20 Lbs.
Adrienne Houghton is enjoying every bit of her family vacation in Hawaii. "The Real Talk Show" host also had time to share beautiful photos from her holiday with her followers.
Adrienne showed off some skin and crazy curves in a series of pictures posted on her Instagram page. She shared the bikini images with her 4.3 million followers while having fun at the beach. There were also a couple of photos of her playing in the water with her husband, Israel Houghton.
The images portrayed the couple having fun as Israel sweetly held his wife and lifted her in the water. In the caption the TV host gave a shout-out to "Fashionova" for the pretty bikini she wore; she also gave photo credit to her sister Claudette Bailon for capturing the sweet moment between her and her husband whom she got married to in 2016.
Adrienne's weight gain has been a concern for a while now, and she recently spoke about it on her "All Things Adrienne" vlog.
"My weight gain in the last few years has been like a struggle for me where I'm like, I never looked at myself as being overweight," she said.
After receiving so many horrible messages about her weight, Adrienne Houghton revealed that it made her hit the gym, but she later decided to ignore the negative comments and do what makes her "comfortable."
"I just did what I had to do to be comfortable in my own skin. And I think that's the most important thing" she revealed."It wasn't necessarily to please other people. I actually, genuinely, didn't like the way I looked," she concluded.
Just a few months back, Adrienne had a fallout with her "The Real" co-host Tamera Mowry-Housley over their respective salaries. The fight revealed that their friendship might be only on a professional level. Mowry is reportedly being paid more money than her other co-hosts and Adrienne is not very happy that she hasn't gotten a raise.
According to what an insider told "DailyMail.com," Adrienne and some other co-hosts started complaining about how they weren't being compensated the same as their fellow co-hosts after the show won an"EMMY" award. The insider also revealed that they talked about staging a walk out.
It's clear that Adrienne wants a raise but some of her co-hosts are against her. The show has been renewed till 2020 and only time will tell if the current hosts will still be there till then.
Please fill in your e-mail so we can share with you our top stories!